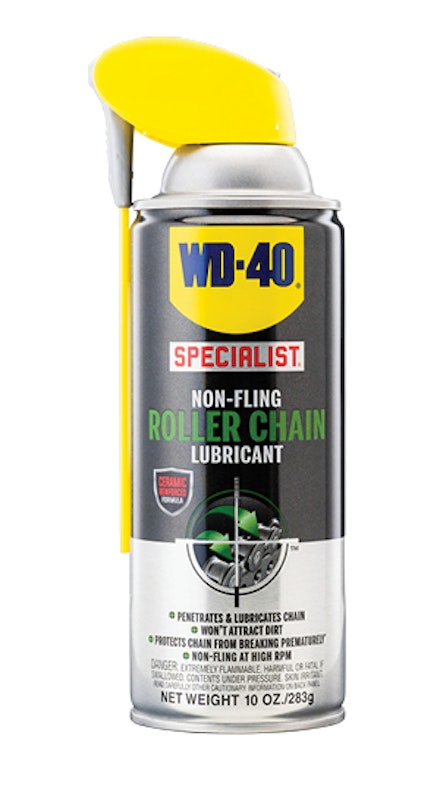 WD-40® Specialist® Non-Fling Roller Chain Lubricant
A ceramic-reinforced lubricant penetrants deep into the chain and protects the chain from breaking prematurely.*
WD-40® Specialist® Non-Fling Roller Chain Lubricant sprays on thin to penetrate deep into roller chains, inner chain links, pins and bushings, and then thickens to provide long-lasting lubrication, even with chains operating at a high RPMs. By penetrating deep into crevices, this formula helps protect the chain from rust and breakage. This roller chain lube's ceramic-reinforced formula repels dirt and helps keep the lubricant from flinging off the chain during use. Great on chains, rollers and high RPM moving parts. Safe on metals, chains, sprockets, chain links and O-Ring chains.
*Based on proper chain maintenance extending the life of a chain. Proper maintenance for roller chain is cleaning and lubricating not only the external parts (chain and sprockets) but also the internal parts (chain links) of the chain.
Non-Fling at high RPM
Safe on O-Ring chains
50-state VOC compliant
Customer Reviews
Average Customer Ratings
Rating Snapshot
Select a row below to filter reviews
Sort by: newest to oldest ranking
Eggman
Clean
I have been using this product for a month now. My chains are cleaner with the WD Riller Chain Lube. It also penetrates the chain well. Works good on my dusty farm.
Cerberus
Very nice Basic chain Lubricant
We've used it around the Shop on a few things.. We have machine tools, with worm screw drives, and one piece of equipment with a small (420) chain. As we have the Specialist line of chain lubes, it was hard to find a place.. It sprays nice, a little thin, but for it's intended application, it works great.
Manufacturer
Did not have to clean "overspray"
I did use the Chain Lubricant on the track, lead screw and coil on my garage door…..It seems to be working well. I did like the way it applied…It was nice I did not have to clean "overspray"…..I will monitor my garage door as much as possible ( not a normal thing to look at daily ) now that I have applied it…