Repair It, Don't Replace It Challenge
<< Back
In a world of constant consumption and disposal, there is a rising need to pay attention to the choices we make at work and at home. The fast, easy, or convenient option isn't always the best one. With this idea in mind, WD-40® Brand has launched the "Repair It, Don't Replace It" challenge…including an opportunity to win up to $3,000 (read more details below). The challenge aims to highlight the importance of repairing tools, items, and equipment rather than contributing to the ever-growing piles in junkyards and landfills. Whether you're a DIY enthusiast or a working professional in automotive, industrial, farming, manufacturing, or other industries, the WD-40 Brand invites you to join the movement towards a more responsible way of getting the Job Done Right®.
Why Bother?
Many older tools and items were built to last, often surpassing the durability of their modern counterparts. By taking the time to repair and maintain these reliable pieces, we can continue to enjoy their functionality and performance. Repairing equipment allows us to take control of the quality and longevity of our belongings, ensuring they serve us well for years to come. We also vote with our dollars, so choosing to purchase repairable items in the first place helps to keep quality and reliability a priority for businesses.
Economic Advantages
When thinking to repair something rather than replace it, saving money is top of mind. Replacing items can be costly, especially with high-quality tools and expensive machinery. Spending the time to learn how to make the necessary repairs and to do the work can seem like a barrier, but once you're in the practice of repairing instead of replacing it gets smoother each time. Similarly, if you get in the habit of buying replacements at every turn, it can end up costing you an arm and a leg. Choosing to buy quality items in the first place may also increase the chances of breathing new life into them when they begin to fail. In the long run, the monetary savings can be significant and the item may bring more value to you in other ways as well.
Conserving Resources
Quality tools & equipment are valuable resources. Much of the time, the materials from which they are made are also prized or useful before becoming a finished product. Choosing to throw away a broken or inoperable piece of equipment also means discarding the material components as well. Beyond the waste, the manufacturing process for new products consumes energy, water, labor, and raw materials. By repairing and reusing our existing belongings, we can significantly reduce the strain on the resources available to individuals, companies, and the planet as a whole. Each tool or item that benefits from proper maintenance or undergoes repair can extend its lifespan, resulting in reduced demand for unnecessary production.
Preserving Craftsmanship & Skills
Repairing items encourages the preservation of craftsmanship, good maintenance practices, and knowledge of the skills needed to do the work. Engaging in the hands-on process of problem-solving and understanding how things work allows these skills to pass on to future generations. By taking the time to do the repair work on tools & equipment, we ensure the continuity of craftsmanship and the culture of ingenuity.
Promoting Creativity and Innovation
Repairing is not merely about fixing what's broken – it's about embracing creativity and innovation. A broken tool or item represents an opportunity to think outside the box and explore inventive solutions. This process not only enhances our problem-solving abilities but also stimulates our creativity and innovation, deepening a practice of resourcefulness and resilience.
Community and Collaboration
Having knowledge is great, but sharing it is even better. In the digital era, those with the skills to repair things have the potential to bring people together online with YouTube, Instagram, blogs, and other social media resources. Educational videos, skillshares, and collaborations with fellow professionals foster a sense of community and provide critical information for people looking to repair and maintain their own tools, vehicles, machines, and other equipment. DIY enthusiasts often find joy in sharing their repair experiences and knowledge, providing guidance and assistance to others. These online resources are usually free to the recipient but have the possibility of adding income, exposure, or other benefits to the provider of the information. Get that side hustle! For inspiration, check out these WD-40 Brand Partner self-starters:
Take Action
There's no time like the present. The "Repair It, Don't Replace It" challenge from the WD-40 Brand invites the doers who roll up their sleeves repairing, restoring and renovating, this challenge is for you! From May 1st to July 17th 2023, you can submit photos and videos of repair projects for a chance to win up to $3,000. Rules and restrictions apply, must be 18+ and reside in the United States to enter (full contest rules can be found here). In addition to the grand prize, each week a winner will be chosen randomly to receive a custom WD-40 Brand x Yeti Rambler® mug. Enter as many times as you like with different repair projects.
Whether or not you enter the "Repair It, Don't Replace It" challenge, get involved with the movement in whatever way works best for your lifestyle. Here are a few ideas:
Learn Repair Skills: Invest time in learning basic repair skills or enhance your existing knowledge. Seek out online tutorials, join workshops, or connect with experienced repair enthusiasts in your community.
Share Knowledge: Be a source of inspiration and guidance by sharing your repair experiences and knowledge with others. Engage in online communities, forums, or social media platforms to spread the repair culture.
Support Local Repair Businesses: Whenever possible, opt for repair services from local craftsmen and professionals.
Prioritize Repair: When faced with a broken or malfunctioning tool, item, or equipment, resist the urge to immediately purchase a replacement. Instead, pause and consider the possibility of repair. Explore local options or take on the challenge yourself.
Spread the Word: Share the message of the "Repair It, Don't Replace It" challenge with your friends, family, and colleagues. Encourage them to join the solutions-focused movement and possibly submit their own entries to the challenge as well!
Pro Tip: Are you ready to tackle your "Repair It, Don't Replace It" project? Don't forget to have a can of WD-40 EZ-REACH® on hand for stuck parts, rusted hardware, or anything else that might slow you down. The 8-inch flexible straw helps maintenance & repairs go even faster so your equipment can get back in action. Pick a can up the next time you are at your local Lowe's.
Next Article>>
FEATURED PRODUCTS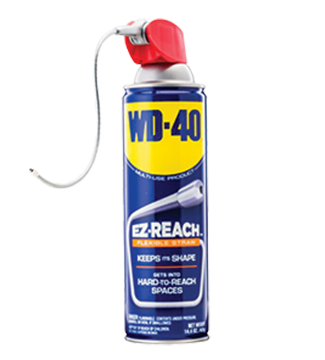 WD-40® EZ-REACH®
WD-40 Multi-Use Product protects metal from rust and corrosion, penetrates stuck parts, displaces moisture and lubricates almost anything.