Chris Zeppieri (Zep) is on a mission: to make everything. If it sounds impossible, just take a look at the Make Everything YouTube channel and see some of his progress. His work brings to mind the words of Abraham Lincoln on the never-ending process – "I do the very best I know how, the very best I can, and I mean to keep on doing so until the end." To strive for something is not to succeed or finish, but to keep going. In this blog we'll peer into the life of Chris Zep and catch a bit of inspiration to make not only the things we need, but those to which we dream and aspire.
From Beginner to Expert
In browsing through some of Chris' projects online (@makeeverythingshop) it quickly becomes clear that he's a trained professional and good at what he does. His videos even come with the warnings, "Don't try this at home" and "Don't Die!" The second warning, with a bit of "serious humor" implied, is now a makeshift motto and branded sticker for Make Everything fans – available here. While Chris is certainly a pro, he's also a self-made, hardworking individual doing it on his own from a 3,000 square foot workshop in Sea Cliff, New York. His passion is to translate how things are made to anyone who is interested – as Chris says, "I love to make things and show you exactly how I do it." The Make Everything shop is a launching point for people to discover their curiosity and learn how to get involved…starting as a beginner and gaining expertise along the way.
Assembly Required
The skills accrued by a professional or craftsman are years in the making, and Chris (though young) is no exception. The son of an interior designer (mother) and home remodel construction worker (father), Chris' toolkit holds both practical and creative dimensions from time spent as a carpenter and a mechanic as well as scholastic training in sculpture, fabrication, and welding. He now uses his workshop to "make everything" from motorcycles, furniture, metal sculptures, and completing projects that require milling lumber, restoring old machines, welding and woodworking.
The depth and breadth of Chris' self-made skillsets attracted the attention of other famous DIY and professional hybrids: Tim "the Tool Man" Taylor and Al Borland, from the classic TV show Home Improvement (1991-1999). Teaming up with The History Channel, the two craftsmen-comedians joined forces again to start the first season of Assembly Required in 2021. The History Channel describes Chris as "an enthusiastic, multi-faceted vessel of talent" with "an outgoing attitude and charismatic personality that will leave even his fiercest competition wanting to befriend him." Join Tim the Toolman and Al to watch Chris tackle the challenges to be found in episode 3 of the show, "Kicking Grass," which can be found online here.
ProTip: Whether you're on a mission to "make everything" or just need a versatile tool for jobs of all kinds, WD-40® EZ-REACH® has you covered. The 8-inch straw bends and holds its shape to reach into tight spaces, allowing for a fast and flexible workflow.
Next Article>>
FEATURED PRODUCTS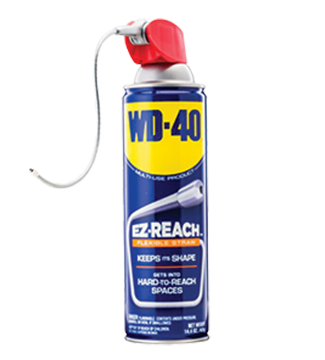 WD-40® EZ-REACH®
WD-40 Multi-Use Product protects metal from rust and corrosion, penetrates stuck parts, displaces moisture and lubricates almost anything.