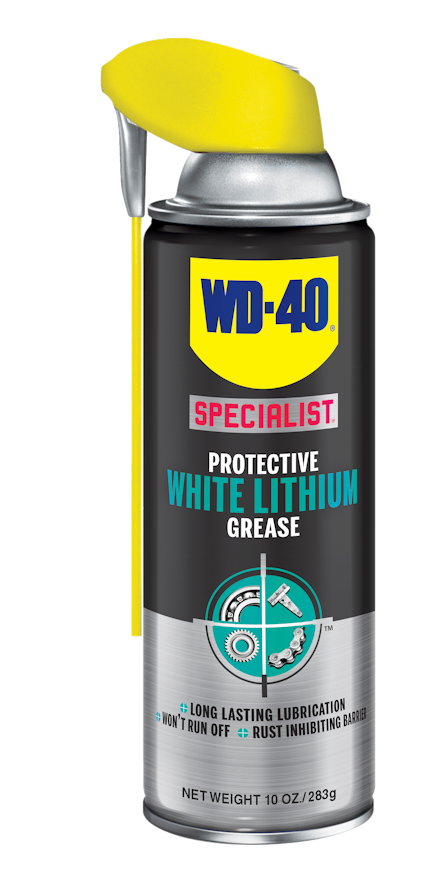 WD-40® Specialist® Protective White Lithium Grease
An aerosol grease that sprays on evenly as a liquid and sets dry for a thick protective coating that won't run off.
WD-40® Specialist® Protective White Lithium Grease provides protection for metal-to-metal applications that require heavy-duty lubrication and protection against rust and corrosion. Great for use on outdoor and automotive hinges, gears, sprockets, latches, overhead door tracks, pulleys, cables and guide rails. It's also excellent for lubricating equipment before placing in storage. Effective in temperatures ranging from 0° F to 300° F. Safe on metals.
Long-lasting lubrication and protection
50-state VOC compliant
NSF Category H2 (#146864)
Customer Reviews
Average Customer Ratings
Rating Snapshot
Select a row below to filter reviews
Sort by: newest to oldest ranking
AJGIII
great nozzle/spray idea; but doesn't set quickly
When I bought the WL can, I was immediately impressed with the dual nozzle idea. The spray is a bit runny but initial use after purchase, the spray would set. A year later, the spray isn't setting....just making a mess. Sad.
Sonya
Great product
I bought the white lithium grease spray to use on basically everything that is stuck in my world. I new i could trust the WD40 product line. I love the way the product works. I hate the can/ sprayer i broke it before I ever got to use it. So I cut off the offending parts and use it anyway. So I can't use it in right places? At least I can still use it. Better instructions may have helped.
Thank you for leaving a review for WD-40 Company. We are sorry to hear that you had problems with the can. We would like to send you a coupon for a replacement product. If you're interested, could you please email us at wdfortycompany@gmail.com? We value your feedback and business. Thank you for helping us make it better than it is today.
- May 6, 2019
Motoerik
Motorcycle chain
My BMW motorcycle sat for months so I took it out and got my chain wet. It sat for another few months and I came to find a rusty chain, so I hit it a few times with WD40 and it came back to life. It worked wonders on old plumbing pipes too!
Faizan
Good Product
Hi i bought 2 Bottles of Wd 40 Grease for $8 in Pakistan. But the Product Quantity is too low i mean you can not do the whole complete car and you need 2 canes to do it. I would suggest the Increase the quantity of this grease and its helpful for old cars and doors and other places.
Paul
Horrible
This is NOT a grease. It has a consistency slightly thicker than WD-40. I used it yesterday and it has NOT set....it is a light liquidy film. I plan to return it to the store; don't waste your time if you are in need of "white lithium GREASE".
Unimpressed1
High price for very little grease!
I bought this yesterday in Halfords to grease the hinges and brackets on my windows. There is so little in the aerosol can that I didn't finish the job and I was very sparing with the use. I use the normal WD40 around the house and it lasts for ages so thought I would get good values with the lithium grease. I was very wrong.
Rovahwest
Using in 105 degree heat with no dripping !
I have been using WD40 since I can remember, and while looking for grease to use on my restoration project, I found that WD now provides. New dispenser style took a while to get used to, but very pleased with options of needle and spray dispensing. I live in Arizona, and need a product that stays in place in extreme heat, and doesn't capture grit and dust - so far VERY pleased.
BrendaCush
Protective White Lithium Grease
Amazing products so happy I purchased it WD-40 never disappoints!
Gardengineer
From garage door to car door, this product works
My garage door has been rumbling, so I went to the web to research a solution. Consistently, white lithium grease was recommended. I went to my local Lowe's and purchased this product. Sprayed the rollers, joints, etc. What really made the difference was applying the product to the screw drive. Amazing reduction in the operating noise level. I also read that it was good for car doors. I've owed my 2000 Honda Civic for about 8 years. Every winter the right rear passenger door would make a groonnnnkk noise whenever the door was opened or closed. A brief spritz and voila, no more noise and the door just glides open. Excellent product.