The Starter Tool Set Every New Auto Technician Needs
<< Back
The Starter Tool Set Every New Auto Technician Needs
For auto technicians, your tools aren't just what you use to get the job done. They're a crucial part of your everyday life. In fact, some estimates say technicians in pro shops have anywhere from $25,000-$50,000 worth of tools on hand.
As a new auto tech entering a career, although this is not the case in every shop, chances are you'll be bringing your own tools into the shop. That means investing in the right tools is investing in your future career.
Luckily, you don't have to break the bank if you know exactly what you need to get started. But with so much info out there, it's hard to know what tools are essential. Here's a look at the basic mechanic tool set and products you'll need to kick off your auto tech career.
3 Top Factors in Selecting the Right Tool Set
With recent advancements in the autotech industry, troubleshooting and problem-solving are at the center of the job. And in order to solve complex issues, you'll want the right tools at your fingertips.
Once you start browsing tool sets, it's easy to feel overwhelmed. But it doesn't have to be a complicated shopping experience. Take a deep breath, and let a few simple factors guide you:
Grip – The best tools will be comfortable to grip and maneuver. They should fit snugly against nuts or bolts and cut down slippage.
Feel – A better tool will simply feel better in your hand throughout the day. That means it will be light and easy to maneuver.
Design – Width and length are also worth considering when picking out the perfect hand tool. Often, a longer tool can give you more leverage and make it easier to connect with hard to reach parts. On the other hand, tools that are extra wide or deep can be harder to fit into tight places.
Overall, you'll want something that grips nuts and bolts well, while balancing comfortably in your hand, and holds up to stress without snapping.
At the same time, you're sure to face the question: Is it worth it to spend more on pro-grade tools, or should I stick with consumer-grade products?
The answer is … it depends. Consider your budget and take a moment to research the tools.
Whenever possible, pick them up and feel them. Chances are you can get by with basic brands, but you'll be able to feel the difference in the pro stuff.
With those basics in mind, here are recommendations on tool sets for automotive techs.
Must Have Tools for Your Starter Tool Set
Wrenches
It might seem obvious, but a good wrench set will be your bread and butter on the job. Here's a tool for which little differences in quality go a long way. When you're spending big parts of the day twisting off stubborn bolts, you'll be happy with little things like low-weight, high-quality material and heads with the right angles.
Here are the types of wrenches you should have in your toolbox:
Adjustable wrenches – metric (8 - 19mm) / standard (5/16" - ¾")
Allen wrench sets – standard and metric
Combination wrenches – metric (8 - 19mm) / standard (5/16" - ¾")
Impact wrenches – standard (⅜" and ½")
Torque wrenches - standard (⅜" and ½")
Hammers
When finesse fails, hammers can save your day. However, remember that not all hammers are created equal. When using hammers, it's important to be aware that the head should be softer than the object it's impacting. After all, it's a lot easier to replace a cracked hammer than an expensive automotive part.
You'll want large hammers for removing ball joints and tie rods; smaller hammers work well for more precise, delicate jobs. Here are some basic hammers you'll want to pick up:
Ball-peen
Mallet
Sledge
Soft-faced / dead-blow
Pliers
Pliers are all about getting a grip on objects and keeping it. That's something that isn't easy to do when you're dealing with grease, oil, and sweat. There are a wide variety of plier options to choose from, but here are some essentials you should have:
Combination
Hose clamp
Locking jaw
Needle-nose
Punch Set & Screwdrivers
Wrestling with a rusted nut or need to remove a cotter pin? You'll love having a quality punch set. At the same time, you'll use screwdrivers on an hourly basis. Here are some tools to be sure not to miss:
Straight-blade screwdriver set
Phillips screwdriver set
Torx screwdriver set
Straight punch set
Screw extractor set
Chisel
Socket & Ratchet Set
Some days, you might feel like these tools are fused with your hand. You can't have a socket and ratchet set that's too robust, but you don't necessarily have to buy out the store on your first go.
Starting out, focus on three matching socket and ratchet sets: ¼" drive, ⅜" drive, and ½" drive.
Maintenance Products in Your Tool Set
Its important to know that as much as you use your tools, maintenance products are just as vital to have at hand. You may find yourself switching between your tools and products regularly throughout the day to get a job done effectively and efficiently. In this sense, maintenance products like lubricants, penetrants, and more can be considered tools themselves and are must haves in your tool set.
Lubricants
One of these must haves is our WD-40® Multi-Use Product. It protects metal from rust and corrosion, penetrates stuck parts, displaces moisture and lubricates almost anything. With over 2,000 verified uses, the classic WD-40 Multi-Use Product has an industry renowned reputation for being one of the most reliable and versatile products on the market.
For a variety of situations you experience on the job, WD-40 EZ-REACH™ has a specialized nozzle that features an attached 8-inch flexible straw that bends and keeps its shape to get into hard-to-reach places. This product is ideal for technicians that depend on performance and versatility to get the job done right.
8" straw bends and keeps its shape
Sprays 2 Ways®
Apply with precision
Minimize overspray
50-state VOC compliant
Penetrants
Rusted or seized parts can really slow you down on a job. For this you'll need a fast-acting penetrant to reach deep into crevices, threads and seams to break rust bonds and loosen stuck parts. WD-40 Specialist® Penetrant with Flexible Straw has a low odor formula that works on contact to free rusted nuts, bolts, threads, locks, parts, and chains leaving behind a protective layer that prevents rust and corrosion from re-forming. An attached 8-inch flexible straw that bends and keeps its shape is useful for reaching hard parts such as exhaust manifold bolts, helping save time you might otherwise spend on removing parts to get to them.
Penetrates rust to free up stuck, frozen, or seized equipment and parts
8" straw bends and keeps its shape
Safe to use on metal, rubber and plastic parts
Ideal for use on nuts, bolts, threads and locks
50-state VOC compliant
Cleaners and Degreasers
Throughout the day dirt, grease, grime, and other debris will make its way onto your tools, the parts you working on, and your area. To maintain a safe, efficient, and presentable work area you'll want to have a cleaner and degreaser close by.
WD-40 Specialist Cleaner & Degreaser is a water-based, non-aerosol cleaner and degreaser that quickly breaks through tough grease and grime and has added corrosion inhibitors to help protect against flash rust. It's great for cleaning greasy automotive parts, tools, shop floors and equipment. It can even be used in cleaning equipment such as power washers and ultrasonic tool cleaners as long as the rinse is discharged to wastewater treatment.
Safe for use on aluminum, chrome, glass, plastic, rubber, stainless steel, granite, leather, paint, and more.
Biodegradable formula meets U.S. EPA Safer Choice Standards. NSF Registered A1, A2, A4, A8, B1.
Non-flammable, non-corrosive, non-abrasive, low-odor formula that can be used in food-processing facilities or for detailing cars.
This formula comes in 5 different sizes:
24-oz refillable trigger
32-oz trigger
1-gallon jug
5-gallon jug with pour spicket
55-gallon drum
Miscellaneous Tools for Your Set
The common hand tools mentioned will get you a long way, but there are some additional tools that you'll be happy you have. Here's a brief list of these extra must-have items:
Scrapers
Flashlights
Hack saw
Pry bar
Using Tools to Power Your Future
With the right tools, you'll be set to launch your career, and you'll avoid frustrations along the way. Still, tools are only as good as the talent, skills, and knowledge of the auto technician using them.
If you're interested in more tips like this, join our Techs and Trade Program developed exclusively for automotive and skilled-trade professionals and get the latest news and industry information delivered straight to your inbox.
This blog was originally published by TechForce Foundation and has been developed and republished here with permission.
Next Article>>
FEATURED PRODUCTS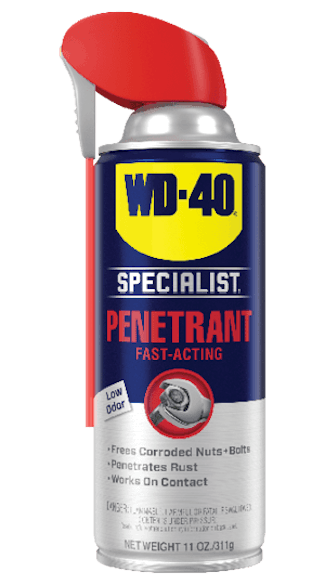 WD-40 Specialist® Penetrant
A fast-acting penetrant with capillary action to penetrate deep into crevices, threads and seams to break the rust bonds that hold stuck parts together.