Top Products for Mountain Bike Racers
<< Back
For many of us, the journey with bicycles begins at a young age. Lessons from parents and siblings grow into steady rolls of independence and the magic of mechanical advantage. The first tastes of mounted adventure, attempting bunny hops and (seemingly) perilous descents over street curbs, lead some to yearn for more and pursue the many joys, thrills, and opportunities to be found on two wheels.
Enter Tobin "McTubbin" Ortenblad (@mctubbbin on Instagram), professional mountain bike and cyclo-cross racer. Tobin rose swiftly from cruising on the seat to the world of BMX, building jumps and learning to play at a technical level with his father and sister. Getting into racing from a young age set Tobin on a path to win the 2016 USA Cycling Cyclocross National Championships Men's U23 in the southern Blue Ridge Mountains near Asheville, North Carolina. The former Under 23 USA Champion in Cyclocross continues to push competitors to ride at their best in any race where McTubbin takes the field, and the WD-40® Brand is proud to partner with this professional cyclist to demonstrate the effectiveness of the WD-40 Specialist® line of bike products.
Tobin, and others who race in bike competitions, may focus in one form of riding or compete and cross-train among the many different styles of races existing today. Cyclocross and cross-country mountain biking are Tobin's chosen areas of focus for professional racing, and though both forms have certain parallels they require different bikes and occur at separate times of the year.
Cross-country mountain biking is one of the main categories of competetive mountain biking, with others including all mountain (or "enduro"), downhill, and freeride. The off-road terrain is often rugged, with riders moving across single-tracks, wider park trails, back-country and fire roads, and through advanced courses amplified with jumps, technical descents, berms, drops, and other adrenalin-pumping additions to an already harrowing experience. Experienced riders and competitors use specially-designed bikes with larger and wider tires, stronger frames, shock-absorbing suspension systems, and other features & components build for higher performance and competitive advantage when riding or racing.
In mountain biking, Tobin demonstrates both his competitive spirit and his personal passion for the mechanical aspects of the sport. While many cyclists learn to maintain and repair their bikes on-the-go, mountain biking often brings riders to places far and away from civilization. Radical self-reliance becomes a critical element to avoid being stranded in the wilderness with a flat tire or broken equipment. Tobin takes this requirement to the next level: as an especially hands-on rider, he performs not only bicycle maintenance but also works on motorcycles, DIY projects, and is currently rebuilding a Subaru engine in his spare time.

Cyclocross (cyclo-cross, CX) races typically take place in the autumn and winter due to their origins as training courses for the Tour de France in the early 20th century. The first French National Competition in cyclocross in the winter of 1902 was organized by Géo Lefèvre, originator of the idea for the Tour de France. Courses are short, about 1.5-2 miles, or 2.5–3.5 kilometers, and require riders to complete many laps over varying terrain features including pavement, wooded trails, grass, steep hills and obstacles where a rider must quickly dismount, carry the bike while navigating the obstruction and remount to continue the race. Incorporating forced "portage" sections helped deliver warm blood to the feet and toes, working other groups of muscles to return heat to the body in cold conditions.
The bikes for cyclo-cross share similarities to road racing bicycles in that they are lightweight, have narrow tires, and drop handlebars. The frames are built to be stronger with greater tire clearance and lower gearing, with riders assuming a more upright position. The unnavigable sections where riders must dismount and slog uphill through mud are a well-known feature of the race, and the extreme conditions of the course provide a prime example of where to use WD-40 Specialist Bike Wet Chain Lube.
In his cyclocross rides, Tobin's primary steed is the Santa Cruz Stigmata CC 58cm which he descrives as "this bike rips". A favorite story among fans of McTubbin comes from the Lost and Found Gravel Grinder in the Eastern Sierra Nevada mountains of California. The race, after 5 hours of hell-bending glory, reached a white-knuckled climax as McTubbin edged out a dramatic finish to win by a tire's length…which equated to less than 2 tenths of a second.
Tobin's need for superior performing products to use during maintenance is part of what motivated a partnership with WD-40 Brand, including the series of excellent bike products such as WD-40 Specialist Bike Degreaser, WD-40 Specialist Bike Cleaner, and WD-40 Specialist Bike Chain Lube – an all-conditions lube perfect for most riding environments. The combination of performance, utility, and adventure in Tobin's personal and professional life aligns directly with the intention and purpose of products created by WD-40 Brand, and we are stoked to see where his wheels take him next.
Pro Tip: While several products from WD-40 Brand are designed specifically for bike cleaning, degreasing, and lubrication, WD-40 Multi-Use Product works great for maintenance needs during assembly, disassembly, and protection from rust and corrosion. Keep your tools and equipment in prime condition with our classic formula and hit the trails with confidence.
Next Article>>
FEATURED PRODUCTS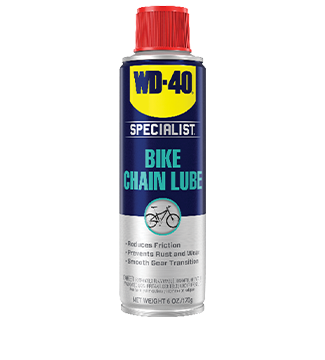 WD-40 Specialist® Bike Chain Lube
WD-40 Specialist® Bike Chain Lube is an all-conditions lubricant that protects bicycle chains in dry, wet, or varying conditions. The fast and easy-to-use aerosol spray helps prevent squeaks and extends the life of the chain. Its special formula does not contain wax, which leaves a sticky residue that can build up inside chain links and the drivetrain. Contains corrosion-inhibitors for optimal chain protection.