By now your New Year's fitness resolutions may slowed in their pace, and it's time to try a new tactic. Getting in shape isn't a sprint, it's not even a marathon – the best method is to make it a lifestyle. One of the surest ways to make a change in your life take hold is to track it. Continual progress at a steady pace will outshine the most fantastic fad diet or workout trend in the long run. Take a look at the tips below to see some of the benefits of using fitness tracker to in order to meet your fitness goals.
Personal Accountability
It can be very easy to give up on your fitness goals if you don't have someone to hold you accountable. The benefit of a fitness tracker, according to Health Fitness Revolution, is that it has been shown to increase your activity level by 30 percent because it motivates by tracking your goals and encouraging you to walk more steps, run faster and sustain that peak heart rate for just a little longer. While not everyone can have a personal health coach, a fitness tracker can provide that external accountability people need to stay on target. Check out some of the top recommended fitness trackers of 2021 here.
Heart Rate
Many fitness trackers now include heart rate monitors, which - according to Dr. Sanjay Gupta – provide data that can help track your heart rate while you work out and while at rest. These devices will help you find and maintain the right exercise intensity to reach your goals and alert you to whether you are meeting those goals.

Sleep Tracking
The quality of sleep you are getting can affect metabolism, cravings, energy and mood. A fitness trackers that gives insight on your sleep patterns can offer a huge advantage in optimizing the progress towards your fitness goals. Measuring the length of sleep and how many times you wake up during the night not only provides information for your current state of well-being, but can also be useful in deterring future health risks associated with sleep disturbance or deprivation. When tracking your sleep, you may be able to pinpoint the such as the time of day when you last drink caffeine. Some devices also let you set a sleep goal and can send you alerts when it's time to go to bed to ensure you get enough sleep.
Conclusion
Fitness trackers are just one tool to help you along your fitness journey. To reach your goals you need perseverance and willpower, but you also need the right resources to make the transformation one that endures. Track your progress and reap the rewards that arrive when you form healthy habits for your body. You'll thank yourself later.
Tip: Before heading out to get some exercise riding your bike, spray your chain with WD-40 Specialist® Bike Chain Lube – an all-conditions lubricant that protects bicycle chains in dry, wet, or varying conditions.
Next Article>>
FEATURED PRODUCTS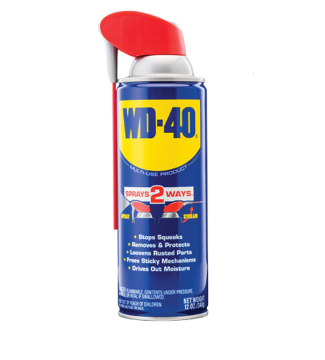 WD-40® Smart Straw®
WD-40 Multi-Use Product protects metal from rust and corrosion, penetrates stuck parts, displaces moisture and lubricates almost anything.