Three Affordable DIY Storage Solutions
<< Back
Whether it's the kitchen, garage or bedroom, almost every home could use a little more storage space. To combat clutter in your home with some extra space and keep your home tidy all year long, read below and check out three easy and affordable DIY storage ideas.
1. Add Shelves to a Closet
Create more storage in a closet with shelves. Thanks to this step-by-step guide from Lowe's, adding shelves to a closet has never been easier. All you need is the right size plywood, square dowels and a poplar board, which are all available at big box retailers like Lowe's and The Home Depot.
2. Ottoman and Coffee Table Storage
While the surfaces of ottomans and coffee tables offer plenty of functionality, why not make the most of it by building one that you can use to stash blankets, pillows, books or movies (a handy fix that doesn't break the bank).
An ottoman can be much more than a footrest or a home for knickknacks – it can also be a great solution for subtle storage. By building your own ottoman, you can choose if you'd like a lid that has safety hinges or lifts off, and you can customize it with your favorite fabric to match or accent your household décor. Follow This Old House's guide to get started.
When it comes to building a coffee table with storage, the options are endless. Build one with drawers, tiers, or if you'd like a more unique design, check out DIY Vintage Chic's wine crate coffee table here.
3. Floating Wall Shelving
One of the best ways to maximize your wall space is adding shelves to the walls. Wall shelves blend form, function and style, and can add a little personality to any room. To properly hang shelves on a wall, follow these instructions from Lowe's. For ideas on how to make a bold statement with your shelves, check out these 10 DIY wall shelving and storage ideas from Apartment Therapy.
Tip: Use WD-40® Multi-Use Product to improve the cutting time for drill bits.
Next Article>>
FEATURED PRODUCTS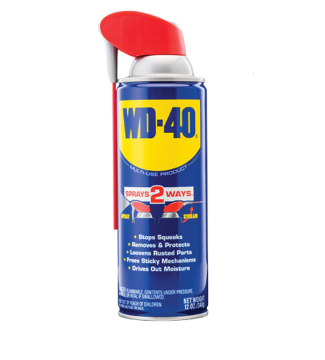 WD-40® Smart Straw®
WD-40 Multi-Use Product protects metal from rust and corrosion, penetrates stuck parts, displaces moisture and lubricates almost anything.