Style and Flair for Your Stairs
<< Back
Looking to add some style to your downstairs décor? Let your staircase steps soar to new heights with a bit of creativity. Check out the following three ideas to give your stairs some enhanced flair.
1.

Add Some Color

Paint is one of the easiest ways to transform bland into beauty. Bare wooden stairs are an excellent canvas for creative painting, and with the help of patterns, stencils, or some solid color blocking the possibilities are endless. If you're painting over raw wood or concrete, it's important to use a primer. Additionally, when you're choosing the paint, make sure you use floor paint. To learn how to paint a staircase, check out DIY Network's step-by-step guide. Need some ideas? These designs from Bob Vila will get you inspired.
2.

Express Yourself

Love literature or have a favorite quote? Use the staircase risers as a canvas to express your thoughts. We recommend painting the staircase risers first (see "Add Some Color" above). After it dries, use decals (available online, or at arts and crafts stores) to stick on the risers or use stencils as a guide and paint them on yourself. To ensure the quote will fit on the steps, make sure you measure the amount of room you have on the risers and count how many stairs you have.
3. Wallpaper the Way
Wallpaper isn't just for walls! Give your staircase risers a pop of personality with wallpaper. Before you choose your wallpaper and start the project, make sure you consider how many steps your staircase has, and pick a pattern that's similar to your home's design theme. If you decide to choose different wallpaper for each staircase riser, we recommend keeping the placement of the patterns or colors consistent for a more symmetrical look. HGTV has some great how-to instructions and be sure to check out The Spruce's guide for tips on choosing the right wallpaper for your needs.
Tip: Spray WD-40 Specialist® Cleaner & Degreaser on the stairs where you intend to paint or apply adhesives and wipe clean to prepare the surface for best results.
Next Article>>
FEATURED PRODUCTS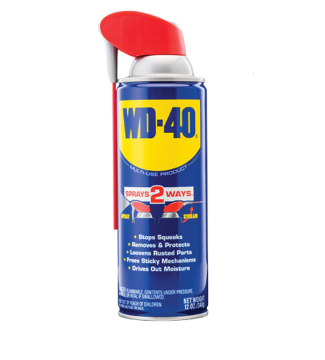 WD-40® Smart Straw®
WD-40 Multi-Use Product protects metal from rust and corrosion, penetrates stuck parts, displaces moisture and lubricates almost anything.