Exploring the outdoors during the wintertime can be challenging, especially in areas with colder climates. Skiing and snowboarding are great when you want to hit the slopes, but the beauty of snow-covered lands extends beyond the mountains. Snowmobiling can offer a new perspective and appreciation of nature – and with over 25,000 miles of groomed and marked snowmobile trails in North America, it's also an amazing way to see areas and elements of the earth only accessible during the cold months of winter. Continue below to start your journey into learning the basics of snowmobiling.
Why Snowmobiling?
Unique excursions into nature, physical rigor, mental health, and forming memories with family and friends are only some of the benefits to find through snowmobiling. It's more than just taking a drive through the countryside – you get up close and personal with serene landscapes and a white canvas of possibility. Rather than holing up in your home to endure the winter, it's a chance to get outside and find a source of motivation to stave off seasonal depression. With proper preparation and knowledge of how to proceed safely, snowmobiling can be an exciting new hobby that invigorates the body and spirit.
Gear
A warm ride is a happy ride. Here's a list of some essentials you'll need before taking to the helm of your snowmobile:
Dry-wicking layered clothing (See REI's guide to layering)
Warm and water-resistant boots
Water-resistant and insulated outerwear (coat, overalls or bibs)
Gloves or mittens
Neck warmer, or a scarf to fly in the wind
Safety equipment for riding (required by law in some areas) including but not limited to a DOT-rated helmet and reflective vest
Other accessories such as hand & foot warmers, goggles, warm hat, flashlight, food & water, radio to communicate with other riders
To learn the names and parts of a snowmobile, check out this list of defined terminology at Snowmobile.com.
Rules & Safety
Riders should read and follow manufacturer instructions & guidelines prior to use. A snowmobile safety course is also a good idea. While operating the vehicle, avoid putting limbs or body parts near the moving parts of the snowmobile. Note that some sleds (snowmobiles) are designed for two people, while many are only single rider sleds. Single rider snowmobiles should not be used by two or more people.
It's recommended that riders understand basic snowmobile mechanics -- an ignition failure or a slipped or broken belt can leave people stranded in a cold, uncomfortable, and possibly dangerous position.
When crossing roads or operating near pedestrians, drive 10mph or less. Stick to the right side of the trail and move in designated snowmobile lanes when possible. Be familiar with your route before departure and be sure everyone in the group knows the plan…and someone outside of the group as well in case of emergency.
Watch out for wildlife, grooming machines, pedestrians (sometimes on skis and snowshoes), and other snowmobiles on the trail. Beware of crossing over ice of unknown strength & stability. Don't confuse adventure with careless and reckless behavior.
Seek Joy
With snowmobiling, you can have a blast as a conservative or adventurous rider. No matter what your speed, it's a joy to reach remote destinations where many wheeled vehicles cannot go. Snowmobilers have a unique opportunity to experience the stark white scenery and pure wonder of nature without crowds of other people. Help preserve this joy by respecting the environment and its wildlife so that others can know these treasures next week, next year, and in the next generation to come.
Pro Tip: Having a can of WD-40® EZ-REACH® in your toolkit is never a bad idea. Help prevent the formation of ice with the water displacement properties of the formula, and the lubrication & corrosion protection aids in keeping parts moving as they should. The 8-inch flexible straw also saves time on disassembly, so you don't have to freeze while attempting to fix problems during the winter months.
Next Article>>
FEATURED PRODUCTS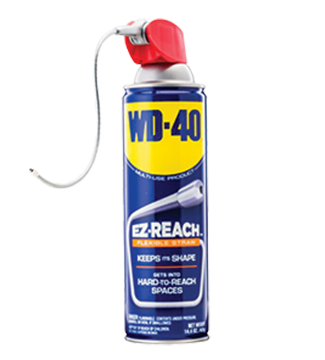 WD-40® EZ-REACH®
WD-40 Multi-Use Product protects metal from rust and corrosion, penetrates stuck parts, displaces moisture and lubricates almost anything.