Product Safety is Our Enduring Promise
<< Back
At WD-40 Company, we live our values- first and foremost, "We value doing the right thing." That begins with our enduring commitment to make product safety and consumer health our #1 priority. All WD-40 Company products are formulated with clean solvents and oils that have been treated to remove harmful chemical contaminants. The result is products that help minimize the risk of harm to people, surfaces, and the environment.1
Powerful and Safer Solutions
WD-40 Company products are formulated with the health of our users in mind
Our products do not require warnings for cancer, birth defects, or other reproductive harm2
Each product is reviewed by industry hygiene and toxicology experts
We adhere to strict internal safety guidelines of what we will and won't include in our products
Our product formulations are consistent across state lines and are based on stringent California regulations
We use recycled and recyclable packaging materials
We have spent decades cultivating and engaging consultants and testing facilities to ensure that all our values are expressed by our products
WD-40 Company Products:
Limit Use of phosphorus: <0.5% by weight
Are non-corrosive: all products are tested for surface compatibility
Are 50 state VOC compliant
Just as Important is What They Don't Include:
Benzene
Chlorine Bleach3
Ammonia
Chlorinated solvents
Ozone depleting compounds
Heavy metal
Phthalates
Continuously Evolving Our Safety Standards
in 2019. WD-40 Company completed contruction of a Technical Center with State-of-the-art research and development capabilities, providing a hub to connect key consultants who help guide us and our scientists around the world. Our scientists and technical tribe members work hard to ensure consistent and responsible product formulations that solve problems.
At WD-40 Company, we value doing the right thing. We are committed to providing safer and effective solutions to help our customers get the job done right.
1 When used and disposed as directed.
2No warnings for our products are required by California Proposition 65, the Safe Drinking Water and Toxic Enforcement Act of 1986.
3Exept specific toilet bowl cleaners and mold and mildew removers.
Next Article>>
FEATURED PRODUCTS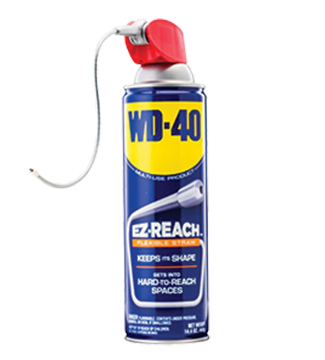 WD-40® EZ-REACH®
WD-40 Multi-Use Product protects metal from rust and corrosion, penetrates stuck parts, displaces moisture and lubricates almost anything.