Maker, Mother, Woodworking Lover
<< Back
Not your average mother of three, Tamar Hannah is a self-taught woodworker who discovered a passion for the craft in 2016. Now she's gone far beyond a hobbyist tinkerer to become a Youtuber professional with over 50 million views along with a host of videos that help inspire and educate others who love to build, create, and enjoy woodworking projects. From furniture to guitars, tutorials to chessboards, Tamar takes DIY to the next-level by going all in on being both maker and mother. Learn more below about this WD-40® Brand partner who isn't afraid to tackle new and demanding challenges…bringing her viewers along for the ride.
3x3 Custom
From humble beginnings as a flea market furniture flipper, Tamar decided to move beyond touch-ups and repairs to explore the process of designing and building her own furniture in 2016. While she didn't have any training in woodworking or construction, Tamar did have a knack for research and turned her focus towards online resources to teach herself a new trade. Once she knocked out a few projects, Tamar took to filming her journey into craftsmanship and 3x3 Custom was born. Check out her platforms on YouTube, Instagram, and Etsy to see how far she's come in a few short years.
Why 3x3?
Tamar named her business after her main passion: the three children in her life. With ages spread from 8 to 13 (in 2022) it takes a lot to get through the day just as a mom, let alone a builder & designer of furniture and woodworking projects. Once Tamar drops the kids at school, she takes care of business around the house & on the computer. Then it's time to hit the power tools in the shop until duties as a driver begin for sports and after school activities. After finishing dinner and helping the kids with their homework, Tamar begins homework of her own with further research, writing, and video editing.
One Stop Shop
As if being a mom and woodworker wasn't enough, Tamar is her own power team for all the online content she offers to the public and her community of fans and followers. "I do it all!" she says for an interview on Woodcraft.com. "I am the videographer, photographer, cinematographer, editor, writer, and on-air talent! It takes a lot of time…I think documenting my builds triples the amount of time spent on them."
The dedication to the crafts of both woodworking and videography help Tamar to really stand out in a competitive world of online content, and her videos provide not only interesting furniture ideas but also deep inspiration for others wanting to learn skills like woodworking while balancing a life full of other obligations.
Learn More from Tamar
A great place to get to know 3x3 Custom would be Tamar's video: "What Tools Do You Need to START Woodworking? Beginner Woodworking Tool List." It provides a beginner's guide for the basics of a budding builder and adds in a few helpful tips including ones using WD-40® Brand Products. One viewer on YouTube commented, "This is the best 'Introduction to Woodworking' video ever. On point, concise, well-written script combined with the credible experience of a professional woodworker."
Another amazing tale of inspiration can be found in the video, "Making a Les Paul Jr. Inspired Guitar with an Epoxy Ocean Pour // DIY Guitar Build." Tamar literally builds a custom guitar and describes each step of the journey, including an epic epoxy pour on the body of the guitar with an assist from DIY Huntress (see this link for a full video of the ocean shore epoxy pour & styling).
One last bit of wisdom from the story of 3x3 Custom comes with understanding the importance of Learning Moments (as we call them at WD-40 Company). Tamar states in her interview with Woodcraft.com, "I never had any sort of formal training. I have always been good at doing research…but nothing really sank in until I tried it." Tamar recalls her first attempts at dovetail joints saying, "Only after attempting them and failing, did I actually fully understand the concept. I find I learn more from my mistakes than anything else."
From a mother of three and a next-level DIY enthusiast come these words to remember: "Just go for it! You will make mistakes, and nothing will be perfect. Learn from each mistake so the next project can be better than the last."
Pro Tip: Tamar uses a table saw extensively in her work and recommends (5:09) WD-40 Specialist® Dry Lube for superior performance protection and lubrication that doesn't attract sawdust and other particles. Less maintenance time means more building time.
Next Article>>
FEATURED PRODUCTS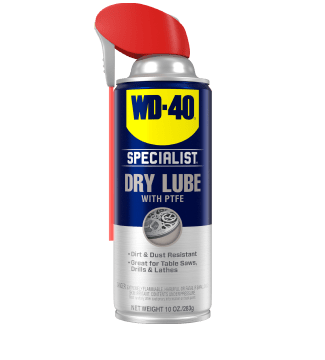 WD-40 Specialist® Dry Lube
A dry lubricant that keeps your equipment running smoothly with long-lasting corrosion protection that does not attract dirt, dust, or oil.