How to Make a Difference in Your Community
<< Back
Lending a helping hand in your community in ways big and small feels great and can really help to make a difference. Deciding to give your time, attention, energy, and/or knowledge to help people or a cause within your community not only makes a positive impact, it allows you to better understand who you are and how you fit in the world around you. Sounds good, right? This week's WD-40® Brand Blog is here to help you understand how to make a difference in your community with a few suggestions and ways to get started.
Be the Change
As Gandhi said, "Be the change you wish to see in the world." It's a quote often heard, but less commonly put into action. Don't overly complicate it – while acts of service can be a passion and a lifestyle, it's also something you can do on a Saturday morning every now and again. One of the best ways to dive in and get involved is to think of an area of passion or interest and discover a related organization, activity, or cause where you can participate and bring about a positive change. Below are a few examples of ways you can make a difference in your community as an individual or as part of a larger organization.
Beach Clean Up (or lake, river, coastline, etc.)
Clean water environments are not only more pleasant to live by, but they create the opportunity for life to flourish for both humans and the local flora & fauna. Take care of the bodies of water in your area so they stay beautiful for the next generations. All you need is a trash bag and perhaps a couple friends – before you know it, more people will join and you'll have started a movement.
Create a Community Garden
Want to work on something sustainable? Figuring out how to raise healthy plants also leads to learning about soil, water, nutrition, and a number of other topics that can be invaluable to your family, friends, neighbors, and especially yourself. Some city, county, or community organizations even provide funds to offset costs for building and maintaining gardens on public spaces. If you're leaning towards creating a garden full of edible plants for the neighborhood, check out our blog on How to Build a Raised Garden Bed.
Another sustainable idea for making a difference is to join a program such as Habitat for Humanity and volunteer to build affordable housing for communities in need. Over a couple of weeks, you can help provide a brand new home to someone in need that will take care of their family for years.
Give Blood
Donating blood to organizations like the Red Cross is safe, simple, and saves lives. An act that generally costs less than an hour of your time (and sometimes gets you a cookie) can make the difference between life and death for people in critical condition or for those with chronic illnesses such as leukemia. Visit the Red Cross website to find locations to donate blood near you.
Become a Mentor
Whether or not you feel you comfortable sharing knowledge or skills with others, the connection and understanding that comes with mentorship creates lasting relationships with meaning and value. Becoming a mentor can be an informal experience or conducted through official organizations, and you can cater to certain audiences by working with youths, adults, businesses, universities, and specific interest areas. Some organizations such as Big Brother Big Sister have clear and defined procedures for setting up pairings, while others like Veterati for veterans (either seeking or becoming a mentor) allow people to pick and choose. Still, the classic mentor role generally develops naturally out of respect and moments of connection rather than official arrangements.
Infinite Possibilities…
The list is far from over. There are so many ways to make a difference in your community, both with the local environment and with the people who share it. Ask yourself what you're passionate about and where you'd like to make a difference. Find opportunities to give back with your heart rather than your head, and let your intuition guide you. Consistency is key and a little effort sustained over time can go quite a long way. Take the first step and make the change – you'll be sure to enrich your life along the journey.
Pro Tip: When going for a beach clean up or starting a DIY community project, carry a can of WD-40® Multi-Use Product with you to be of service to rusted bolts, squeaky hinges, and other shared structures, items, and components you encounter. Keeping shared spaces and public property well-maintained is everyone's business, and our original formula can serve quite a number of needs.
Next Article>>
FEATURED PRODUCTS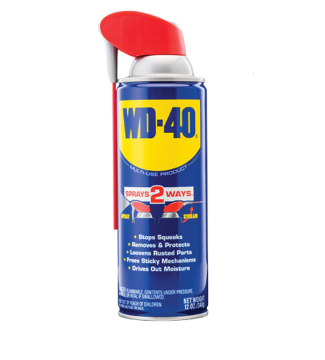 WD-40® Smart Straw®
WD-40 Multi-Use Product protects metal from rust and corrosion, penetrates stuck parts, displaces moisture and lubricates almost anything.