How to Make a Fireplace Mantel
<< Back
The centerpiece of your living room, the fireplace is a symbol of comfort, coziness, and gratitude for life's blessings. It serves as a font of memory and a bearer of tradition. Whether adorned with stockings and cookies during the holidays or displaying pictures or icons of family life rich with experience, the mantel is a figurehead of a happy home. While mantels can be antique designs, decorously carved of wood and stone, there is much room in an imaginative household for DIY pieces that carry a new kind of energy into your living space. Read on for ideas to help you create a work of your own to mount upon the hearth.
Safety First
Before you begin any kind of project that deals with fire and your home, it's important to take a few safety considerations into account. This Old House gives a reminder that national codes mandate a minimum clearance of six inches around the firebox with "an additional 1 inch for every ⅛ inch a mantel protrudes from the surface" – and codes may be stricter locally depending on where you live. If you're building a mantel of great size, weight, or one that requires structural changes to the fireplace or surrounding area, you may wish to consult a specialist for further safety precautions and common problems.
Design & Style
Once you have a notion of the safety parameters that may come into play, it's time to pick a style and design your mantel. If you have a home décor theme, you'll want to ensure the new mantel will match or complement the present arrangements of your living room and household. A DIY mantel is a great opportunity to get creative – interesting leftovers from a past project such as a pergola can serve as inspiration, or you can also choose inexpensive materials like those referenced in This Old House's 5-step mantel building guide. If you're really crafty, you can also use mortar and stone – especially if you're adding onto a stone fireplace. Sometimes only the veneer is made from stone, so investigate any structures already in place before adding on additional features. When you're in the design phase, it's a good idea to draw out potential mantel builds on paper (or digitally with tools like Canva) to get a visual concept before you begin the physical work.
Build and Mount
Steps to take in the building phase will vary based on your design. If you're having trouble considering what kind of mantel you want to build, check out these 13 DIY mantel ideas from theSpruce.com. Some rustic designs only require a piece to be sized appropriately and do not need further finishing work, while others like a live-edge mantel will need a fair amount of sanding and care before the mounting can begin.
When you're ready to mount the mantel to the wall or on top of an existing fireplace structure, there are also several options to consider. A simple or ornate metal bracket can get the job done swiftly and reliably, or bolts directly to the wall itself can serve if done correctly. Check out the iron brackets and bracing items available at The Home Depot to take a look at what's readily available, or take a look at floating mantel designs on Etsy for other ideas.
Pro Tip: Once the mantel is set, give your fireplace tools a shine with WD-40® Smart Straw. The two-way straw system allows for area or precision spray, and our classic multi-use formula aids in the freeing up of rust. Spray and wipe with a cloth or rag to leave a shining coat of protection against future corrosion.
Next Article>>
FEATURED PRODUCTS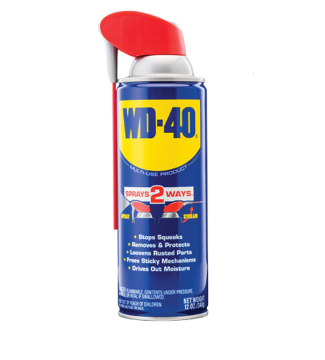 WD-40® Smart Straw®
WD-40 Multi-Use Product protects metal from rust and corrosion, penetrates stuck parts, displaces moisture and lubricates almost anything.