No need to sign up for a pricey gym membership to get in shape. Create your own fitness haven at home by following these simple steps that won't break the bank.
Find the Space
The first step is to choose an area that you'll use for your workouts. According to Jessica Smith, fitness expert and star of "10 Minute Solution: Ultimate Bootcamp," you should find a spot that has enough room for movement and one that you actually enjoy spending time in. Smith recommends avoiding the bedroom, unless it's large, as the layout is seldom conducive to a good workout.
Create a Budget
Before you start setting up a home gym, it's important to establish a budget. Figure out what you're willing & able to invest, what you want to achieve, and what will work within the space you have chosen. If you'd like a fully equipped fitness space, Garage Gym Lab provides a number of recommendations on where to spend and how afford the equipment you need. Fortunately, there are options for every budget: if you don't choose to spring for a stair-stepper or multigym system, purchase a set of benches with risers and some step-training DVDs or a few sets of dumbbells as cost-conscious alternatives.
Suit Your Style
Consider your personal inclinations when creating your home gym. If you love yoga, make that the focus of your workout space and create a calming corner devoted to an exercise mat and a TV for following exercise videos. If running is more your style, bring in a good-quality treadmill. You don't need a full gym to make exercise a habit.
Invest in Quality Basics
It's important to buy equipment that you know you'll need and use often. Garage Gym Labs gives some pro tips on how optimize your search when looking to purchase equipment, from smaller items such as dumbbells, resistance bands, & stability balls to bigger-budget investments in larger equipment such as a treadmill or rowing machine. It's important to do your research to find the piece or pieces of equipment that meet your specific needs and fit in your space. Here are the guidelines recommended by the American Council on Exercise:
Treadmill – 30 square feet
Stationary bike – 10 square feet
Free weights – 20 – 50 square feet
Single-station gym – 35 square feet
Rowing machine – 20 square feet
Stair climber – 10 – 20 square feet
Multi-station gym – 50 – 200 square feet
Stay healthy and stay motivated- you can do this!
Tip: Use WD-40® Specialist® Dirt and Dust Resistant Dry Lube PTFE spray to provide long-lasting lubrication and corrosion protection on home gym equipment. It dries quickly, resists dirt & dust, and leaves no oily residue.
Next Article>>
FEATURED PRODUCTS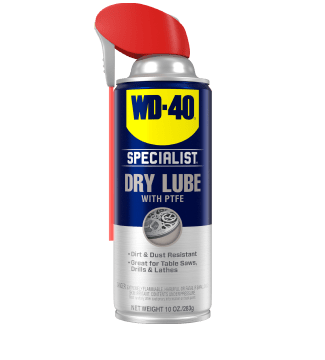 WD-40 Specialist® Dry Lube
A dry lubricant that keeps your equipment running smoothly with long-lasting corrosion protection that does not attract dirt, dust, or oil.