Gear Prep for Outdoor Adventures
<< Back
With the arrival of spring, we know one thing's for sure: the great outdoors is calling. Before you leave for your first outdoor trip of the year, make sure your gear is ready for another season of camping adventures. Bring some life back into your outdoor gear by following the care and maintenance tips for three camping essentials.
Tents
Ensure you'll have protection over your head when you sleep (and a place to store items) by testing your tent before the trip. Check all the zippers, look for rips or tears in the walls or floor, and check for bent poles. To check for leaks, Camping.com recommends using a hose to simulate rain. If there are repairs needed, go check out REI's tent repair guide before purchasing a new tent to see if you can fix it yourself without breaking the bank.
Sleeping bags
As you've been keeping your sleeping bag in storage throughout the winter, you should wash your sleeping bag and air it out for a couple of days to dry. Sew any tears or holes that can be easily fixed (check out how with REI's sleeping bag care tips), and don't forget to spray some WD-40® Multi-Use Product on your zipper to ensure it zips smoothly during your trip.
Coolers
Keeping your cooler clean is necessary to keep its tight seal, prevent odors and keep you safe from foodborne illnesses. When a cooler is kept clean and dry it prevents mold and mildew from building up. Once mildew appears, it's extremely hard to banish it completely. The first step to keeping your cooler in best condition is to wipe down the inside with a cloth after each use, then set it outside for an hour to get rid of all the moisture. If there are any food stains on the inside or outside of the cooler, Families.com recommends combining baking soda and water to scrub away the stains. To get rid of odors, the article recommends wiping the inside of the cooler with real vanilla extract.
Tip: Spray WD-40 Multi-Use Product on the joints of metal tent posts to stop creaking when the wind kicks up.
Next Article>>
FEATURED PRODUCTS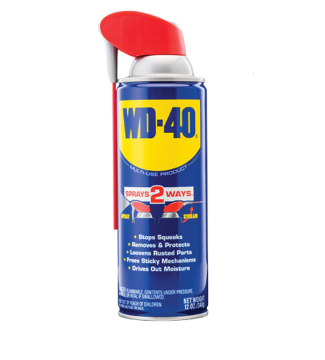 WD-40® Smart Straw®
WD-40 Multi-Use Product protects metal from rust and corrosion, penetrates stuck parts, displaces moisture and lubricates almost anything.