A Fresh Look for Landscaping
<< Back
In past blogs we've given a few ideas on how to create new landscaping features around your home and in your garden. Today we'll cover how to give a fresh look to past projects and how to improve the style and cleanliness of landscaped areas. From simple tweaks to a thorough overhaul, choose your adventure and decide how much energy to put into crafting the design of the outdoor spaces around your home.
Pruning
One of the easiest entry points to sprucing up your landscaping areas is to prune, weed, and pluck your way to neatness in the lawn and garden. While daunting if left undone for many months, the simplicity of the effort can be meditative as a practice and visibly rewarding as a multitude of smaller efforts take shape on the big picture. Have kids? Take a chore and turn it into a challenge by showing young ones which plants to pluck and seeing how many they can gather in a set time.
Ground Coverage
Providing ground coverage for your landscaping with stones, mulch, or other items can have numerous beneficial effects, not only to beautify the space but also to reduce the need for pruning and allow plants to flourish in a comfortable environment. Water retention improves with mulching or a blanket of small stones which can save money on the water bill and avoid excess watering in dry regions. After a thorough pruning, lay down a layer of landscaping fabric over the dirt of your garden (cutting holes and openings for the plants) and either purchase or find free sources of mulch or stones (such as the dump, Craigslist, or other online postings) to provide ground coverage on landscaped areas.
Lighting
The right lighting in a room really sets the mood, and the same goes for the outdoor spaces of your home. Whether you have tall trees, well-manicured shrubs, or some simple plants in the front, back, or side yard areas, a few well-placed lights can really let your home shine in the night as well as the day. If you don't want power lines throughout the yard, use solar-powered garden lights in areas too far from a hard-wired electric source. For more information on installing outdoor lights, check out this video from This Old House.
Water Features
Like lighting, water features are a way to "level up" the outdoor vibe of your home in a big way. Fountains, coy ponds, and even small cataracts that replicate the sound of a bubbling brook can bring a heavy dose of zen. Unless you're buying a turn-key outdoor fountain from websites such as Wayfair though, these projects can be a lot to tackle. Considerations for power, water supply, filtration, and others can quickly add up in terms of cost and complexity. If the sound of a small and gentle waterfall in your backyard is appealing, however, The Family Handyman offers advice on "How to Build a Low-Maintenance Water Feature."
Special Interests
A trim, clean-cut garden with stone bedding and decorous lighting throughout the landscaping is a beautiful thing. Certain homes, however, crave a bit of character that goes beyond the usual. Unique and special interest garden items range across the spectrum from kitsch and cliché to those steeped in history (such as garden gnomes). Whether you're mystically inclined or just like to spice things up with some curio items in the backyard, below are a few suggestions for what you can place for all to see or hide for the intrepid observer:
Dream catchers
Bells
Wind chimes
Fairy statues
Garden gnomes
Rock gardens
Simple labyrinths
Plant wall
Tiny bridge
Find more on Etsy.com
Pro Tip: Restore rusty rakes, shears, shovels and other garden tools to prime condition with WD-40® Multi-Use Product. Spray, let sit, and rub with a cloth or rag to free up rust & dirt to bring back a strong metallic shine and provide a protective coating for the future.
Next Article>>
FEATURED PRODUCTS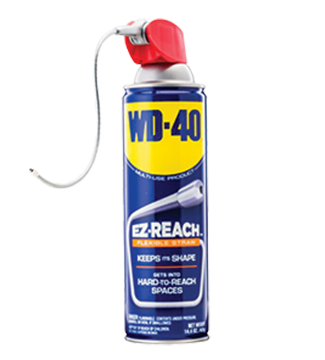 WD-40® EZ-REACH®
WD-40 Multi-Use Product protects metal from rust and corrosion, penetrates stuck parts, displaces moisture and lubricates almost anything.