The 411 on WD-40® Brand Products
<< Back
An Online Product Guide Decision-Tree
The Original WD-40® Formula has over 2,000 documented uses from people across the globe, but the innovators at WD-40 Company like to think that's just scratching the surface. Things have come a long way since the company was founded in 1953, and new products emerged to meet 21st century needs with the WD-40 Specialist® Line. Designed for the specific requirements of working professionals as well as the at-home needs of people desiring superior performance products, the offerings carrying the blue & yellow shield are not to be matched.
In order to help people better understand how and where to use these products, we created an online tool that uses a decision-tree format. The "You Can Do That and More!" guide offers education for home and automotive uses with WD-40 Multi Use Formula and WD-40 Specialist Products so you can quickly reference what formula you need to get the job done right.
In the "Home" section you can choose from five different areas including the kitchen, living room, garage, outside, and around the house. With visual aids to assist with selecting different uses, you're only a few clicks away from discovering what product will serve you best with the task at hand. While most of the recommendations come from the WD-40 Brand, don't be surprised if you encounter a few particular usages from partner brands such as Spot Shot® Instant Carpet Cleaner for dealing with tough stains and 3-IN-ONE® Garage Door Lube for lubricating the moving parts of your garage door.
Heading to the "Auto" section, you'll find six categories to select from: exterior, tools, garage, accessories, interior, and engine/suspension. Each holds visual aids for gaining a better understanding of what products to apply and where they can be useful for vehicle maintenance. These tools are especially relevant for people who have not had the chance or opportunity to try out the full range of products from the WD-40 Specialist Line. A few brief examples:
Select Auto -> Engine, Suspension -> Carburetor (image)
Select Auto -> Exterior -> Car door lock (image)
The "You Can Do That and More!" reference tool offers a foundation for understanding what WD-40 Brand Products can do for you, at home and on the job. It's a quick visual aid you can share with your spouse, friends, or co-workers to convey an idea or introduce someone else to products you've found useful. We hope you're able to make use of these products to get the job done right and create positive, lasting memories along the way.
Pro Tip: Two of the WD-40 Brand's most popular formulas – WD-40 Specialist Penetrant and the Original WD-40 Formula – are outfitted with the EZ-REACH® delivery system. This 8-inch bendable straw keeps its shape to access tight spaces and hard to reach places, helping you save time & effort during automotive maintenance and all kinds of other situations.
Next Article>>
FEATURED PRODUCTS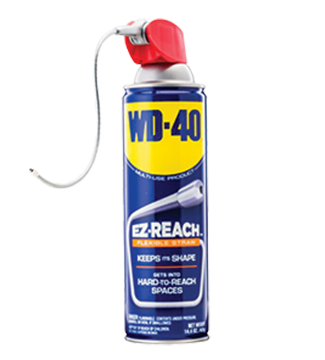 WD-40® EZ-REACH®
WD-40 Multi-Use Product protects metal from rust and corrosion, penetrates stuck parts, displaces moisture and lubricates almost anything.