How Will You Celebrate Memorial Day?
<< Back
Two traditions form the mainstays of Memorial Day: remembrance and celebration. The holiday has a history dating back to the American Civil War, where both sides of the conflict found solace in showing respect to deceased soldiers once the war had ended. Today, the holiday serves both to honor fallen veterans of the United States Armed Forces and to informally welcome the coming of summer season before the official start on the summer solstice. It is both a time for remembrance, and for celebration.
Remembrance:
Across the country people commonly visit grave sites (particularly military cemeteries) and leave flowers, flags, and wreaths as a sign of respect. Flagpoles in the United States are also flown at half mast until noon, when the flag is again raised to full height. In Arlington National Cemetery, the President or Vice-President places a wreath on the Tomb of the Unknown Soldier with generally around 5,000 people in attendance (according to PBS).
Celebration:
Memorial Day also has a rich tradition of celebration, and of bringing together friends and family. Backyard barbeques, sports games, and picnics in the park are common practices as people shake off the colder seasons and get ready for the summer months. When the sun cooperates, it can be a favorite among holidays for the cheer and camaraderie that comes with the holiday's celebrations.
2021:
While parties, potlucks, and festive gatherings may not be on the calendar for 2021, there are still many great ways to carry on the traditions of Memorial Day. Honoring the fallen does not have to take place in a cemetery, and summertime merriment does not have to come with a crowd. GoodHouseKeeping.com offers 20 activities for Memorial Day that kids, families, and individuals may reference for ideas of how to give homage to the holiday's remembrances and also capture the mirth of its twin nature. From a simple moment of silence to a hand-written letter to a soldier's family, it's a day to pay attention and show respect before playing sports and settling in to watch an exciting patriotic movie. Celebrate in style and give a nod to those who've sacrificed this Memorial Day and prepare for the summer adventures to come.
Tip: WD-40 Specialist® Cleaner & Degreaser is an EPA Safer-Choice certified industrial-strength cleaner & degreaser proven to be more powerful, safer, and easier than other degreasers on the market. Whether you're cleaning your grill or the base of a flagpole, it's the product to choose to get the job done right.
Next Article>>
FEATURED PRODUCTS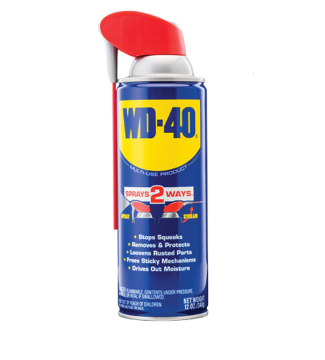 WD-40® Smart Straw®
WD-40 Multi-Use Product protects metal from rust and corrosion, penetrates stuck parts, displaces moisture and lubricates almost anything.