Under the Hood with Eric the Car Guy
<< Back
As a part of our "October Auto Care" focus this month, we reached out to Eric the Car Guy® for a bit of wisdom in and outside of the garage. Since 2009, Eric's become a pillar of the online automotive community by offering continuous information and education to the masses through his true-to-life videos on vehicle maintenance. With millions of watchers and subscribers ranging from professional mechanics to DIY tinkerers, Eric dedicates much of his life to helping others learn and improve upon their skills under the hood. He's also a longtime fan and user of WD-40® Brand Products, and we're proud to share a piece of his inspirational journey.
Where it began
Eric started working on bikes and cars from a young age, recalling "a love of taking things apart for as long as I can remember." Although mechanically inclined, a strong artistic side and an interest in film initially led him to study industrial design and special effects creation for movies. When it came to choosing a career, however, a number of factors drove Eric to pursue a degree from Rosedale Technical College and work in a field he loved with a secure future.
Tech & Trades
The automotive industry is constantly adapting to new technologies, and skilled and professional occupations ride at the edge of growth and change. Tech & trade programs not only fill the ranks for newcomers to the fields but help mechanics and other skilled workers stay at the top of their game with ongoing education. After finding success with the Eric the Car Guy® website and YouTube channel, Eric keeps ties with the Rosedale Technical Institute for himself and his audience. He delivered the key note speech for a graduation ceremony and may even send his grandson there if an interest in car mechanics continues. WD-40 Company also helps people like Eric connect to these programs through efforts such as Generation T (powered by Lowes), the Universal Technical Institute, and other tech & trade partnership opportunities.
Linking Passions
One of the unique aspects of Eric's story comes through his ability to combine two distinct skillsets that he's passionate about to achieve a mutual benefit. By linking the classic skills of automotive maintenance with the transformational power of digital storytelling, Eric enables millions of mechanics, tinkerers, and viewers online to learn and improve upon their skills under the hood. His videos on Youtube and on his website take on projects ranging from basic car care considerations to complicated and in-depth jobs requiring detailed explanations. While this effort often adds hours of extra time to a specific job, he's now able to reach an audience of thousands of people with each video and create a lasting educational and motivational presence for others inclined to pursue auto mechanics.
Go for a Ride
If you haven't explored many of Eric's videos before today, the sheer volume of his work is staggering. A good place to start might be The Fairmont Project – a job special to Eric because it is the realization of a dream build he'd formed in his mind at age 16. When considering the project, Eric remembers "I wanted to do something different…other than just fixing things all day long." The Fairmont is essentially a "sleeper" car that, with an unassuming exterior, doesn't "show its hand" with regard to engine power & speed. It got a lot of traction with his audience both from the audacity of the project in terms of work required and the value given to viewers for the level of detail he shows throughout the process. Here's a clip of Eric taking it out on the track to let the rebuilt engine roar.
Superior Performance
Eric states that "engineering challenges are what really get me going." This attitude causes him to seek out the best tools for the job when he has a project to finish. For years, he's turned to WD-40® Brand Products for superior performance formulas, with some favorites including WD-40 Trigger Pro® for easy access to our classic multi-use product during engine disassembly and WD-40 EZ-REACH® for the convenience of the flexible straw in a variety of uses around the shop. Having a can on hand during "October Auto Care" month helps with the jobs when you expect to need it and especially with the ones when you didn't.
Pro-Tip: Eric's a big fan of coating his tools with our classic multi-use formula to reduce the impact of normal wear & tear and to protect them from the elements. For fast and accurate sprays on tools or in tight spaces, he uses WD-40® EZ-REACH®.
Next Article>>
FEATURED PRODUCTS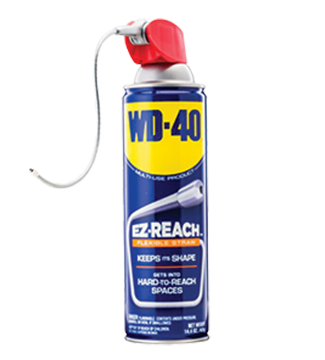 WD-40® EZ-REACH®
WD-40 Multi-Use Product protects metal from rust and corrosion, penetrates stuck parts, displaces moisture and lubricates almost anything.