5 Ways to Save Energy Costs in Your Home
<< Back
Do you find yourself dreading the arrival of your monthly energy bills? Taking on the challenge of transforming your home for enhanced energy efficiency can be costly and difficult. Fortunately, there are many simple and effective things you can do with little investment to save energy in your living space. Here are five easy ways to start:
1. Switch your light bulbs
One of the least expensive and most effective changes you can make in your home is replacing your incandescent light bulbs with ENERGY STAR-qualified compact fluorescent light (CFL) bulbs. Did you know CFL bulbs use 97 percent less energy and last more than 100 times longer than incandescent bulbs? According to ENERGY STAR and Lowe's recent video project titled, "The Top Energy Offenders in Your Home," when you replace your home's five most frequently used light fixtures with CFL bulbs, you could save about $75 per year. Check out some of the CFL bulbs we found from Home Depot here.
2. Stop the phantom (load)
"Phantom load," or as this article from Digital Trends calls it, "vampire power," refers to a device that's turned off, asleep or not in use, but is still plugged into a wall outlet. According to the U.S. Department of Energy (DOE), 75 percent of the electricity used in the average home is consumed while the products are turned off. On a grand scale, ENERGY STAR shared that the nationwide costs for phantom loads are $10 billion each year.
To reduce standby power, we recommend installing "smart" surge protectors and power strips. Check out some great ones we found at Lowes.
3. Weather stripping
Weather stripping is an easy and cost-effective way to seal air leaks and improve energy costs. By creating a tight seal between movable building components such as doors and operable windows, you can keep the warm air in and the cool air out – or the other way around.
Before applying weather stripping to your home, it's important to choose a product for each specific location that will withstand the weather, temperature changes and friction. Check out what product is best for you by looking at the table on the DOE's website about the common types of weather stripping. In general, the weather stripping option you choose should seal well when the door or window is closed but allow it to open freely. Thanks to this article from the DIY Network, you can get all the DIY basic tips when it comes to weather stripping.
4. Install fans
Ceiling fans are rapidly growing in popularity as homeowners are discovering the year-round savings and comfort they provide. In the summer, ceiling fans circulate the cool air from air conditioners around the room, which reduces the strain and use on the unit. In the winter, the fans push heated air down into the room to help keep it warm.
Choosing the type of ceiling fan depends on the size of the room you're installing the fan in (for more information, refer to the sizing chart in this article on Lowe's website), the design of the room and your budget. For ideas, check out some of the ceiling fans Lamps Plus offers. For a step-by-step installation guide, we recommend this article from This Old House. Enjoy the breeze!
5. Replace or clean air filter
Did you know replacing a dirty, clogged filter with a clean one helps lower your air conditioner's energy consumption by 5 to 15 percent? According to this article from the DOE, clogged, dirty filters block normal airflow and reduce a system's efficiency significantly. Regular maintenance on your air conditioner keeps it running as efficiently as possible, which will save you money by extending its life. For tips on how often you should replace or clean your air filter, and instructions on how to do this, check out this article from Apartment Therapy. Don't know what air filter fits your needs? The Home Depot's guide to selecting an air filter is a great resource.
For more energy tips, check out ENERGY STAR's website – dedicated to help businesses and homeowners save money and protect our climate through superior energy efficiency.
Tip: Use WD-40® Specialist® Dirt and Dust Resistant Dry Lube PTFE spray to lubricate and protect air conditioner and fan blades without collecting dust & debris.
Next Article>>
FEATURED PRODUCTS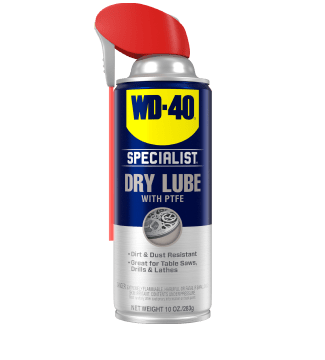 WD-40 Specialist® Dry Lube
A dry lubricant that keeps your equipment running smoothly with long-lasting corrosion protection that does not attract dirt, dust, or oil.