4 Tips for a Healthy Lawn This Summer
<< Back
Don't let the summer heat get the best of your yard. Check out these four tips to keep your lawn fresh and healthy all season long.
Mow Your Lawn in a Pattern
The first trick to keeping your grass healthy and preventing weeds is to mow your lawn in straight, even rows. GCI Turf Services has a great video on how to achieve straight lines. When you mow your lawn, alternate directions each week to ensure grass continues to grow straight. The Spruce suggests you do two alternating laps around any obstacle in your yard, like a tree or flowerbed.
If you want to get fancy with your lawn mowing, try creating a professional pattern by altering your technique. Create straight, wave, checkerboard or circle patterns by switching the direction of your lawn mower. For inspiration and guidance on how to get started, check out these tips from Yardcare.
Height Matters
When mowing your lawn, it's crucial to pay attention to the height of each blade of grass. If your grass is cut too short, it's more vulnerable to weeds and damage from the sun. Lawnsmith recommends that you remove no more than one-third of the grass blade with each mowing. The best blade height is set at two inches from the ground.
Fertilize Your Lawn Naturally
Believe it or not, you should not throw away any of the grass clippings after mowing. Leaving the clippings on your lawn is an excellent way to replenish natural nutrients like moisture, resulting in healthier turf. According to Spring Green Yard Care Services, by leaving the clippings on your lawn, you are naturally recycling 15 percent of your store-bought fertilizer.
Keep it Hydrated
To improve your lawn's color and growth, water your grass once or twice every week. According to Consumer Reports, the morning is the best time for you to water the grass because there is less wind and less sunlight, allowing for the grass to soak up the most moisture. Regularly watering your grass in the morning also discourages pest and disease infestation because the lawn dries throughout the remainder of the day. Always keep an eye on your lawn and water if grass blades are looking extra dry.
Tip: Use WD-40® Multi-Use Product to protect lawnmower parts from rusting and keep its wheels turning smoothly.
Next Article>>
FEATURED PRODUCTS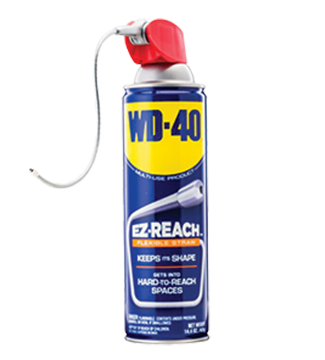 WD-40® EZ-REACH®
WD-40 Multi-Use Product protects metal from rust and corrosion, penetrates stuck parts, displaces moisture and lubricates almost anything.