WD-40® Specialist® Sweepstakes
<< Back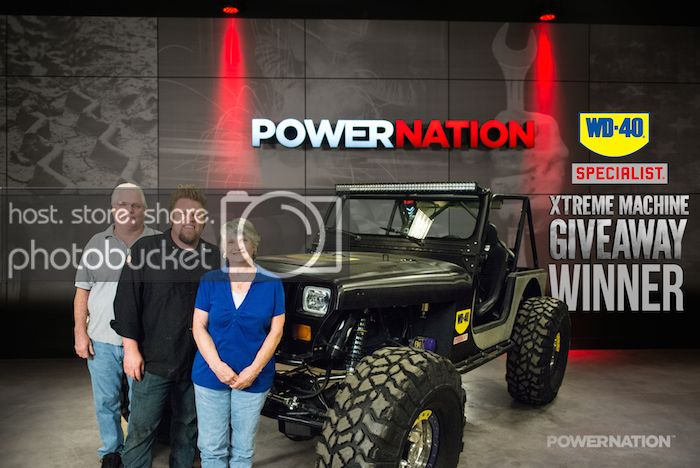 SAN DIEGO – July 17, 2015 – The WD-40® Specialist® Xtreme Machine, a custom, one-of-a-kind, 4x4 off-road vehicle built on two episodes of PowerNation's "Xtreme Off-Road," is now being given to one lucky winner as part of the WD-40 Specialist Xtreme Machine Giveaway.
Diana Beedy of Old Town, Fla., is the winner of the sweepstakes, which ran Jan. 2 – May 31, 2015 on WD40Giveaway.com . WD-40 Specialist products were used throughout the project to help clean, restore, disassemble and rebuild the project vehicle.
PowerNation, a two-hour block of four car and truck shows airing on NBC Sports Network, SpikeTV, the CBS Sports Network, PowerNationTV.com and the PowerNationTV app, includes "Xtreme Off-Road," "Engine Power," "Truck Tech" and "Detroit Muscle."
"With more than 300,000 people entering the sweepstakes for a chance to win this vehicle, it's clear viewers appreciated the hard work and attention to detail that went into building the WD-40 Specialist Xtreme Machine," said Tim Lesmeister, vice president of marketing for WD-40 Company. "We're proud our top-of-the-line WD-40 Specialist products were used to help transform this vehicle into a rugged rock crawler, and we know Diana and her son will get good use out of this very capable off-road machine."
The vehicle, which debuted at the SEMA Show in Las Vegas in November 2014, has an Aqualu body, custom tube chassis with 14 inches of suspension travel, Dana 60 front axle and Sterling 10.5 rear axle rebuilt with 4.56:1 gears and Yukon Zip Lockers, Mastercraft suspension seats, custom Trail-Gear aluminum beadlock wheels, 42-inch Pit Bull tires, Atlas II transfer case, coilover shocks, a full race communication system, LED light bar, and a 22-gallon fuel cell.
To see what products are available in the WD-40 Specialist line, visit www.WD40.com/Products . To learn more about how you can use WD-40 Multi-Use Product to get the job done, visit WD40.com .
About WD-40 Company
WD-40 Company is a global marketing organization dedicated to creating positive lasting memories by developing and selling products which solve problems in workshops, factories and homes around the world. The company markets its multi-purpose and specialty maintenance products and its homecare and cleaning products under the following well-known brands: WD-40®, 3-IN-ONE®, X-14®, 2000 Flushes®, Carpet Fresh®, no vac®, Spot Shot®, 1001®, Lava® and Solvol®.
Headquartered in San Diego, WD-40 Company recorded net sales of $383 million in fiscal year 2014 and its products are currently available in more than 176 countries and territories worldwide. WD-40 Company is traded on the NASDAQ Global Select market under the ticker symbol "WDFC." For additional information about WD-40 Company please visit WD40Company.com .
Next Article>>
FEATURED PRODUCTS