Check Out WD-40®'s 5 Delivery Systems
<< Back
SAN DIEGO - February 10, 2016 -While most consumers tend to rely on one particular delivery system of WD-40® Multi-Use Product, over the last 60 years WD-40 Company has continually innovated its variety of delivery systems to include five different options, dubbed the "WD-40 Power of Five," which provides many ways to use the trusted formula's power to get any job done right.
The WD-40 Multi-Use Product line encompasses five task-kicking ways for trade professionals and heavy DIYers to solve challenges using a pinpoint stream, flexible reach, precise control, wide spray or soak. Over the years, loyal WD-40 Multi-Use Product users have shared thousands of ways the formula and its delivery systems have been used, and now WD-40 Company is asking them to share those uses with others by using #WD40PowerOf5 on social media.
Consumer feedback has given way to expertise areas and personalities for the five different delivery systems, which together create a powerful arsenal of tools every professional and heavy DIYer should have on hand. Meet the Power of Five lineup:
The Controller – WD-40 Trigger Pro® allows more control of the rate and amount you spray through its non-aerosol can.

The Multi-Tasker – WD-40 Smart Straw® sprays two ways, a pinpoint stream and wide spray, with its permanently attached straw.

The Flexer – WD-40 EZ-REACH™, the newest addition to the WD-40 Multi-Use Product lineup, helps reach the unreachable with an 8-inch flexible straw that bends and keeps its shape, allowing users to get around corners and into hard-to-reach spaces.

The Enforcer – WD-40 Big Blast® makes small work of big jobs with a wide nozzle that sprays the product over a larger surface area.

The Soaker – WD-40 One Gallon allows users the ability to harness the concentration of the formula through soaking.
"We love engaging with our fans and customers about how WD-40 Multi-Use Product has made their jobs, tasks and lives easier," said Tim Lesmeister, vice president of marketing at WD-40 Company. "We know tasks come in all shapes and sizes so we've developed products that allow folks to get WD-40 Multi-Use Product where and how they need it."
About WD-40 Company
WD-40 Company is a global marketing organization dedicated to creating positive lasting memories by developing and selling products that solve problems in workshops, factories and homes around the world. The Company markets its multi-purpose maintenance products and its homecare and cleaning products under the following well-known brands: WD-40®, 3-IN-ONE®, GT85®, X-14®, 2000 Flushes®, Carpet Fresh®, no vac®, Spot Shot®, 1001®, Lava® and Solvol®.
Headquartered in San Diego, WD-40 Company recorded net sales of $378 million in fiscal year 2015 and its products are currently available in more than 176 countries and territories worldwide. WD-40 Company is traded on the NASDAQ Global Select market under the ticker symbol "WDFC." For additional information about WD-40 Company please visit WD40Company.com .
Contact:
Natalie Haack
Nuffer, Smith, Tucker
619/296-0605, ext. 230
nh@nsptr.com
Next Article>>
FEATURED PRODUCTS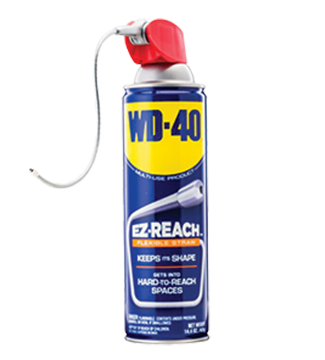 WD-40® EZ-REACH®
WD-40 Multi-Use Product protects metal from rust and corrosion, penetrates stuck parts, displaces moisture and lubricates almost anything.