WD-40 Company and Universal Technical Institute
<< Back
SAN DIEGO – April 21, 2015 – WD-40 Company and Universal Technical Institute (UTI) have entered into a three-year agreement to support UTI students and technical education by supplying UTI campuses with WD-40 Company's iconic multi-purpose lubricant and newest line of professional grade specialty maintenance products under the WD-40® Specialist® line.
Through the partnership, UTI students will receive WD-40 Specialist product samples at orientation and will also have the opportunity to work with the best-in-class products in the classroom.
"We're committed to giving the next generation of mechanics and technicians the tools they need to get the job done," said Tim Lesmeister, Vice President of Marketing at WD-40 Company. "One of our values as a company is to make it better than it is today, so we're proud to partner with an established organization like Universal Technical Institute that trains mechanics and technicians so they can get top jobs in the industry."
WD-40 Company has been a supporter of UTI for more than 10 years but will now also be providing additional specialty products and have signage throughout campuses nationwide. Representatives from both companies were also recently featured together on an episode of PowerNation TV's "Xtreme Off-Road."
"WD-40 Company has made an investment in our students and are supporters of the value of technical education," said Terry Emig, Director of Business Alliances for UTI. "Having a household name like WD-40 Company support UTI through generous product donations and its commitment to quality technical education is an invaluable endorsement of our campuses and students."
WD-40 Company is now officially the featured provider of aerosol lubricants, penetrants and specialty maintenance products (with the exception of OEM product rights) that includes the iconic WD-40® Multi-Use Product and WD-40 Specialist products for student and school use, curriculum support, enthusiast events, campus visibility opportunities and other potential communications that help to raise awareness of UTI, it's students and the value of technical education.
About WD-40 Company
WD-40 Company is a global marketing organization dedicated to creating positive lasting memories by developing and selling products that solve problems in workshops, factories and homes around the world. The Company markets its multi-purpose maintenance products and its homecare and cleaning products under the following well-known brands: WD-40®, 3-IN-ONE®, GT85®, X-14®, 2000 Flushes®, Carpet Fresh®, no vac®, Spot Shot®, 1001®, Lava® and Solvol®.
Headquartered in San Diego, WD-40 Company recorded net sales of $383 million in fiscal year 2014 and its products are currently available in more than 176 countries and territories worldwide. WD-40 Company is traded on the NASDAQ Global Select market under the ticker symbol "WDFC." For additional information about WD-40 Company please visit WD40Company.com .
About Universal Technical Institute, Inc.
Headquartered in Scottsdale, Arizona, Universal Technical Institute, Inc. (NYSE: UTI) is the leading provider of post-secondary education for students seeking careers as professional automotive, diesel, collision repair, motorcycle and marine technicians. With more than 190,000 graduates in its 50-year history, UTI offers undergraduate degree and diploma programs at 11 campuses across the United States, as well as manufacturer-specific training programs at dedicated training centers. Through its campus-based school system, UTI provides specialized post-secondary education programs under the banner of several well-known brands, including Universal Technical Institute (UTI), Motorcycle Mechanics Institute and Marine Mechanics Institute (MMI) and NASCAR Technical Institute (NASCAR Tech).
For more information visit www.uti.edu . Like UTI on Facebook at www.facebook.com/UTI or follow UTI on Twitter @UTITweet , @MMITweet , and @NASCARTechUTI .
Next Article>>
FEATURED PRODUCTS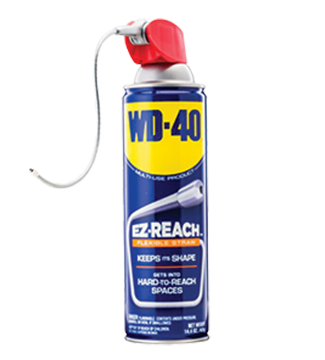 WD-40® EZ-REACH®
WD-40 Multi-Use Product protects metal from rust and corrosion, penetrates stuck parts, displaces moisture and lubricates almost anything.