"Athena" Motorcycle Build with Cerebus Motors
<< Back
SAN DIEGO – Sept. 22, 2016 – WD-40 Company and Cerberus Moto are partnering to build a custom, post-apocalyptic style motorcycle that will debut at the SEMA Show in Las Vegas, held Nov. 1–4.
Dubbed the WD-40® Specialist® "Athena" Motorcycle, Cerberus Moto master mechanic Dave Hargreaves is building the motorcycle using WD-40 Specialist products, including Rust Release Penetrant Spray, Industrial-Strength Degreaser, Rust Remover Soak and more. WD-40 Specialist's variety of products gives professionals the performance they need to get their specific jobs done right.
The custom Yamaha XS650 is a middle-weight bike equipped with solar panels, antennae and camping supplies. Like WD-40 Specialist products, the Athena is versatile. It is designed to have sufficient power to sustain any situation, from an off-road camping adventure to a long-lasting electrical outage. The Athena will feature Warp 9 wheels and Spiegler brakes and front lines, among other best-in-class motorcycle parts. At SEMA, the motorcycle will be located in the WD-40 Company booth #62129 along with the entire line of WD-40 Specialist products.
"This is a bug-out bike—it's a rolling backpack," said Hargreaves. "It represents WD-40 Company products because they have so many uses."
Hargreaves has more than 20 years of industry experience. He has worked at motorcycle shops from Harley Davidson in Scottsdale, Arizona to Confederate Motorcycles in New Orleans where he helped launch the Confederate Wraith. Since moving back to his hometown of San Diego, he started Cerberus Moto to provide enthusiasts with a space to learn how to work on their motorcycles.
"Dave's lifelong passion for motorcycles is evident in the work he put into this bike," said Tim Lesmeister, vice president of marketing for WD-40 Company. "He did a phenomenal job building a truly one-of-a-kind motorcycle while using our WD-40 Specialist products in the process."
Fans can view photos of the WD-40 Specialist Athena Motorcycle on WD-40 Company's Facebook, Twitter and Instagram pages. To learn more about how you can use WD-40 Specialist products to get the job done, visit wd40specialist.com.
About WD-40 Company
WD-40 Company is a global marketing organization dedicated to creating positive lasting memories by developing and selling products that solve problems in workshops, factories and homes around the world. The Company markets its multi-purpose maintenance products and its homecare and cleaning products under the following well-known brands: WD-40®, 3-IN-ONE®, GT85®, X-14®, 2000 Flushes®, Carpet Fresh®, no vac®, Spot Shot®, 1001®, Lava® and Solvol®.
Headquartered in San Diego, WD-40 Company recorded net sales of $383 million in fiscal year 2014 and its products are currently available in more than 176 countries and territories worldwide. WD-40 Company is traded on the NASDAQ Global Select market under the ticker symbol "WDFC." For additional information about WD-40 Company please visit WD40Company.com.
Contact:
Amanda Whitlock
Nuffer, Smith, Tucker
619/296-0605, ext. 226
aw@nstpr.com
Next Article>>
FEATURED PRODUCTS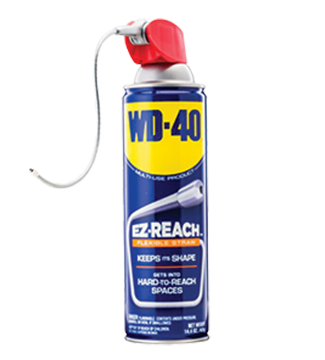 WD-40® EZ-REACH®
WD-40 Multi-Use Product protects metal from rust and corrosion, penetrates stuck parts, displaces moisture and lubricates almost anything.