WD-40 Specialist Top Challenges Countdown Contest
<< Back
SAN DIEGO – Jan. 18, 2016 – WD-40 Company is giving consumers a chance to win $10,000 by showing how they use WD-40® Specialist® products to solve tough challenges at work, at home and at play.
Entrants just need to submit a video or photo showing how they use a WD-40 Specialist product to get the job done for a chance to win $10,000.
"People can do amazing things when given the right tools," said Tim Lesmeister, vice president of marketing at WD-40 Company. "Now folks have a chance to win $10,000 just by taking a minute to show what they're able to accomplish with the help of WD-40 Specialist products."
The WD-40 Specialist line of products includes the Rust Release Penetrant Spray, Water Resistant Silicone Lubricant, Protective White Lithium Grease, Rust Remover Soak, Long-Term Corrosion Inhibitor, Machine & Engine Degreaser, Electrical Contact Cleaner, Dirt & Dust Resistant Dry Lube, and the Industrial-Strength Degreaser.
To submit a video or photo for a chance to win $10,000, and to see what others have submitted, go to WD40Specialist.com/TopChallenges .
RTM Productions, which produces PowerNation TV, is the administrator of the contest. For official contest rules, visit WD40Giveaway.com/Rules
About WD-40 Company
WD-40 Company is a global marketing organization dedicated to creating positive lasting memories by developing and selling products that solve problems in workshops, factories and homes around the world. The Company markets its multi-purpose maintenance products and its homecare and cleaning products under the following well-known brands: WD-40®, 3-IN-ONE®, GT85®, X-14®, 2000 Flushes®, Carpet Fresh®, no vac®, Spot Shot®, 1001®, Lava® and Solvol®.
Headquartered in San Diego, WD-40 Company recorded net sales of $383 million in fiscal year 2014 and its products are currently available in more than 176 countries and territories worldwide. WD-40 Company is traded on the NASDAQ Global Select market under the ticker symbol "WDFC." For additional information about WD-40 Company please visit WD40Company.com .
Contact:
Greg Kershaw
Nuffer, Smith, Tucker
619/296-0605, ext. 226
gk@nstpr.com
Next Article>>
FEATURED PRODUCTS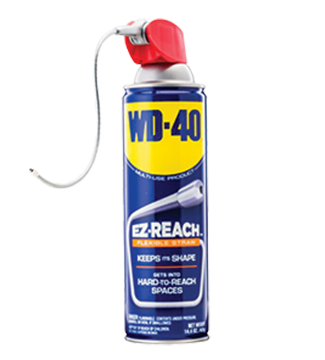 WD-40® EZ-REACH®
WD-40 Multi-Use Product protects metal from rust and corrosion, penetrates stuck parts, displaces moisture and lubricates almost anything.