"Share Your WD-40 Love" Sweepstakes
<< Back
SAN DIEGO – Feb. 2, 2015 – WD-40 Company is giving consumers a chance to win great prizes for showing why they love WD-40® Brand products and how they use them to get the job done at work, at home or at play.
Whether you use the WD-40 Specialist® line of products, WD-40 Multi-Use Product or all of the above, submit a video or photo with a short description of why you love using that product to get the job done for a chance to win the Ultimate Entertainment Center (a VIZIO 50-inch flat screen Smart HDTV, VIZIO speakers, a Sony® Blu-ray Player, and a South Shore Furniture City Life TV Stand) and other prizes, including: $250 Visa gift cards, Jambox™ by Jawbone® portable wireless speakers, WD-40 brand hats and WD-40 brand products.
"We know people love using our products to help make their jobs easier, and we love hearing about it," said Tim Lesmeister, vice president of marketing at WD-40 Company. "Now you have a chance to win the Ultimate Entertainment Center by taking a minute to share the love and contribute your own problem-solving tips via your smartphone or computer."
To submit a video or photo for a chance to win, and to see what others have submitted, go tohttp://wd40.com/WD40LoveSweeps . For official sweepstakes rules, click here .
About WD-40 Company
WD-40 Company is a global marketing organization dedicated to creating positive lasting memories by developing and selling products that solve problems in workshops, factories and homes around the world. The Company markets its multi-purpose maintenance products and its homecare and cleaning products under the following well-known brands: WD-40®, 3-IN-ONE®, GT85®, X-14®, 2000 Flushes®, Carpet Fresh®, no vac®, Spot Shot®, 1001®, Lava® and Solvol®.
Headquartered in San Diego, WD-40 Company recorded net sales of $383 million in fiscal year 2014 and its products are currently available in more than 176 countries and territories worldwide. WD-40 Company is traded on the NASDAQ Global Select market under the ticker symbol "WDFC." For additional information about WD-40 Company please visit

http://www.wd40company.com

.
Next Article>>
FEATURED PRODUCTS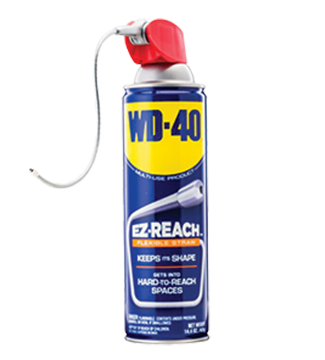 WD-40® EZ-REACH®
WD-40 Multi-Use Product protects metal from rust and corrosion, penetrates stuck parts, displaces moisture and lubricates almost anything.