Tips for Fall Garden Harvest
<< Back
If you're a gardening enthusiast, the fall harvest is a time to joyfully reap what you've sown in the spring and summer for a rich and colorful reward. Farmers and lovers of autumnal food groups such as apples, pumpkins, corn and squash also hold great interest in this bountiful season. When it comes to tending plants and working with produce today, practical wisdom from centuries of human experience now layers on new techniques and modern research for determining what actions to take during the fall harvest.
Admiring the Cornucopia
If you planned ahead in the spring and summer, your garden may now be ripe with a range of cool weather crops including carrots, cabbages, swiss chard, broccoli, parsnips, pumpkins, squash and kale. This chromatic array makes a wonderful setting on countertops, windowsills, and other places around the home as you prepare for feasts and festive times with friends and family. Some produce needs to be eaten right away, while others like potatoes, onions, carrots, parsnips, leeks, and some pumpkins and gourds can be held through winter and into the early spring. Harvest your crops as they ripen (which may occur at different rates, even with the same plant) and get ready to dine in style with your healthy bounty.
Trim as You Go
While you're in the garden, keep an eye out for plants bearing signs of diseases, fungi and mold. Once you've collected the produce, it's best to trim away any affected leaves, and possibly the whole plant if necessary. Freed of their fruitful growth, the vegetation needs fewer leaves to support themselves so it's better to trim away undesirable foliage rather than risk further contamination. You'll also want to tidy your garden as you pull from your beds – allowing crops and plants to decompose in the soil can spread diseases and lead to unhealthy fungi in the garden. Unwanted insects and pests may choose to overwinter in the decay as well, readying them to rise again next spring when the new plants begin to grow.
Turn Over a New Leaf
Once you're done harvesting, you can do some prep for the next season with techniques such as "lasagna gardening" with layers of carboard or other weed barriers and cold frames for keeping winter vegetables alive in the frost. Certain plants like Asian greens and cabbage can be grown in some winter climates – you can look at sites such as SeedsNow for what may fair well in the area where you live.
Waste Not Want Not
Excess produce from your garden harvest? Sun-dried tomatoes are even more excellent when you dry them yourself, and homemade apple chips are tasty all year round. There are a range of options to consider before throwing anything away or losing good food to spoilage. Check out this list below and find more resources at National Center for Home Food Preservation.
Freezing
Drying
Canning
Juicing
Fermenting
Pickling
Jam/jelly preserves
Gifts to friends and neighbors
Pro Tip: Whether you're pruning with shears, digging with shovels, spreading soil with a metal rake, or a host of other harvest tasks, be sure to have a can of WD-40® Multi-Use Product on hand to free up grit and protect your tools from rusting.
Next Article>>
FEATURED PRODUCTS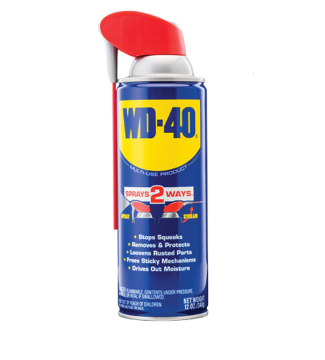 WD-40® Smart Straw®
WD-40 Multi-Use Product protects metal from rust and corrosion, penetrates stuck parts, displaces moisture and lubricates almost anything.