Whether you're fishing for recreation or hoping to catch dinner for the evening, it's important to make sure you have some general knowledge of how to fish. To help ensure your time on the water is enjoyable and productive, follow these tips below.
1
.
Determine the Best Spot and Time of Day
Pick a place you'll enjoy for a few hours whether you catch any fish or not. To learn where a person has a high probability of catching fish, talk to enthusiasts or experts at your local fishing store. Don't forget to check out your local newspaper's fishing reports for a list of locations and what kind of fish are the most popular during this time of year. For specific species of fish and details on when & where you can find them, check out this article from The Old Farmer's Almanac. When picking a time of day to fish, one hour before and after high tides, and one hour before and after low tides. For a step-by-step guide on how to choose the best time for fishing, read these tips from WikiHow.
2.
Choose the Right Gear
Purchasing the proper fishing equipment can be an intimidating experience, but you don't need to break the bank to pick the right gear for you. The first step is to purchase an appropriate rod and reel. The next step is to get the right sized fishing line and a variety of hooks to catch your fish. Watch this video from The Bass Resource to learn the simple formula for choosing the right hook for fishing. Once you've got the right hook and line, it's time to choose the right bait (unless you're using a lure). This article from FineFishing.com is a great resource for choosing what bait is best for the type of fishing you'd like to do. The last piece of equipment you'll need is something to keep the fish in. If you plan on keeping your fish, you should get a fish cage to keep the fish trapped in water or a simple bucket to throw them in while you're fishing.
3.
Catching Fish
There are a variety of techniques and styles when it comes to casting a line in the water, but if you're a beginner to fishing, it's important to start with the basics and practice on land (away from others) before going to the water. Watch these step-by-step videos from Boys' Life on the basics to casting a line, and with some practice, you could soon be casting like a pro. Once you've gotten enough practice, it's time to go to the water. After casting your line, wait until the hook drops to the desired level and slowly reel in the line. Once you feel a tug, you will want to "set" your hook. Watch this video from Expert Village to learn how to properly do this. After you've successfully caught the fish, it's your decision to capture it or to let it go (in accordance with local laws and regulations). Check out this article from About.com for guidance on how to unhook the fish and when you should leave the hook in or out. Be sure to also check local rules on which species you can fish for and how many you're allowed to keep. For more information on fishing licenses, laws, and regulations in the United States, you can get started on this page.
Tip: Use WD-40® Multi-Use Product to lubricate fishing reel sets and protect metal parts of the rod from rust & corrosion.
Next Article>>
FEATURED PRODUCTS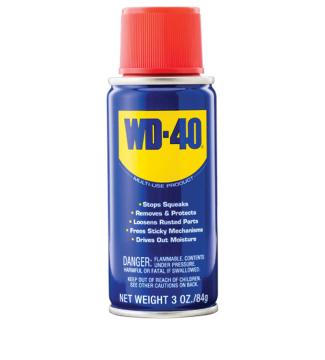 WD-40® Multi-Use Product
WD-40 Multi-Use Product protects metal from rust and corrosion, penetrates stuck parts, displaces moisture and lubricates almost anything. The WD-40 Multi-Use Product 3oz Handy Can is the perfect travel-sized problem solver.