Tackle tight spaces on-the-go | WD-40® Precision Pen
<< Back
Picture this familiar scenario: You're in the zone, getting things done on-site, in the garage, at the shop or around the house. You reach for your trusted can of WD-40…but you left it in the truck. Your flow? Interrupted. Or maybe you've got a job that needs some finesse — a tiny, squeaky hinge; a rusted bolt in a confined area; or a smaller electrical system that needs drying. You need accuracy, and you need it right now.
What's your go-to WD-40 Multi-Use Product? The new WD-40® Precision Pen. This portable, easy-to-store WD-40 applicator gives you pin-point precision and a controlled flow in tight spaces—whenever and wherever. Here's how to put our newest product to best use:
Accurate application, always on-hand
No matter where you go, you can have the power of the Original WD-40 Formula in your pocket with our new Precision Pen. This ultra-portable tool is ideal for:
Automotive garages
Building and construction sites
Electrical repairs
Bike shops
Home improvement
Gardening
Agricultural machine shops
Outdoor recreation (biking, fishing, camping)
You can use the new Precision Pen on the same wide variety of materials (plastics, rubber, metal hard surfaces) as our other WD-40 Multi-Use Products, including:
Acetal
Neoprene/hard rubber
HDPE
Teflon
Viton
Steel
Galvanized steel hot dip
Electroplated
Copper
Brass
Magnesium
Nickel
Tin plate
Titanium
Zinc
The Precision Pen's controlled flow applicator makes it ideal for small parts and confining spaces. Try it on:
Gears
Threads
Hinges
Hand tools
Fuse boxes
Bike chains
Fishing rods
And more!
Why choose WD-40's Precision Pen?
You already rely on many of WD-40's Multi-Use Products, from the WD-40 Big Blast® to the WD-40 EZ-Reach®. But how many times have you been problem-solving a project and wished you had some WD-40 right there, right on-hand, right now?
The new Precision Pen lets you take WD-40 with you, wherever you go. Forget the walk back to the truck or toolbox. The portable pen fits easily in your pocket or toolbelt alongside your most-used arsenal. It's always there, always on-call.
The Precision Pen is made for your most exacting tasks. No mess, no stress. You can wield pin-point precision with the applicator's accurate tip. Press down to release a controlled flow; let up to stop. It's that simple!
Finally, the Precision Pen is made for close quarters and tight spaces. When you don't have a lot of elbow room, reach for this sized-just-right tool. (And you won't have to reach far!)
How to use the new WD-40 Precision Pen
Remove the cap.
Press the pen's tip against the targeted area.
Hold down for a continuous flow of Original WD-40 Formula, as needed.
Repeat as necessary.
Replace cap tightly when done.
Congratulate yourself on a project well done.
Store in a cool, well-ventilated space when you're off-the-job.
Pro Tip: Don't leave home without the new WD-40 Precision Pen. You never know when you're going to need it!
But don't take it from us; hear it from a motorsports pro: "Having the Original WD-40 Formula within reach is a given. But the new pocket-sized version is a game-changer, giving me portability and precision all in one!" — Travis Soules, Progressive Insurance ECSTAR Suzuki Race Mechanic
Next Article>>
FEATURED PRODUCTS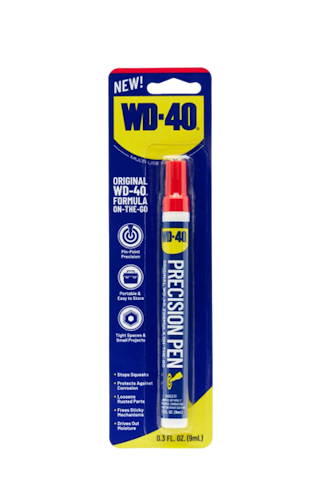 NEW WD-40® Precision Pen
The WD-40® Precision Pen is engineered to deliver the Original WD-40 Formula with pinpoint precision.