For those enjoying the sun and splendor of an American summer, the Fourth of July carries a great tradition for epic barbeques. Embrace the nostalgia and join the fray of those sparking up their grills before setting off nighttime sparklers. Here are some tips to ensure your gear is good to go for the upcoming feasts and festivities.
Gather Your Tools
By now you likely already have a few barbeques under your belt this summer, but just in case let's go over the basics. Gas and charcoal grills are two of the biggest categories for outdoor grilling, but even after you pick your genre of flame there are many options to consider regarding quality, style, and price. Head over to Lowes.com and find one suitable for your needs.
You'll also want the right cookware and accessories. BBQGuys.com has you covered for anything and everything you'll need to get your grill on, and to get the food off too once it's hot.
Clean Your Grill
Whether you're using gas or charcoal, you'll definitely want to clean your grill before and after each use. Many people choose to use scrapers with metal bristles to free up char and other materials left behind after cooking – but there are other techniques too, such as Grill Rescue's no-wire brush that steam-cleans your grill. No doubt many of you know that WD-40® Multi-Use Product works wonders when maintaining your grill's exterior, but if not now you do!
Prep Your Station
Once your grill is clean and ready to go, you'll want to prep the rest of your station before guests arrive and things get busy. If your grill doesn't have a rack or hooks for the accompanying tools & accessories, have something on hand (small table, bucket, tray) where you can easily grab and set down the grilling tools. Similarly for the food, you'll want to have a side-table or another surface where you can store raw items waiting to be cooked and another area (with separate plates or trays) where you can stow the food that's ready to eat. Be sure to include a place to store a beverage, perhaps even a cooler nearby – and a comical apron always gives the grill master a little extra class…
Eat, Drink and Be Merry
Once you've taken care of all the above – congratulations! You're ready to dive into the Fourth of July with tasty abandon. Celebrate life, liberty, and the pursuit of happiness with those you love and show your gratitude for freedom and independence with the flame-kissed glory of a great meal.
Tip: WD-40® Multi-Use Product protects metal from rust and corrosion and works great to keep the exterior and interior of your grill in shape. Spray a protective coating after use and be sure to lubricate hinges and wheels. If you use the product on cooking surfaces, clean them with soap and water afterwards.
Next Article>>
FEATURED PRODUCTS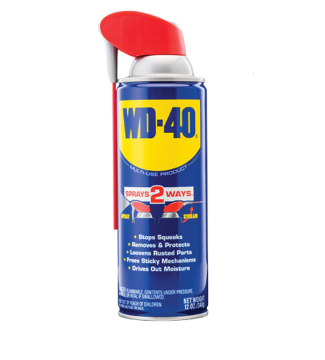 WD-40® Smart Straw®
WD-40 Multi-Use Product protects metal from rust and corrosion, penetrates stuck parts, displaces moisture and lubricates almost anything.