With warm weather officially here, it's time to get your deck ready for summer entertaining. Check out the following three maintenance tips recommended by HGTV to keep your outdoor paradise looking great all summer long.
Cleaning
The first step to keeping your wood deck looking its best is to clean it thoroughly. As many deck cleaners contain harsh chemicals, it is recommended to use a garden sprayer to apply the cleaner. Need information on what deck cleaner is right for you? This article from Bob Vila has you covered. For step-by-step instructions on how to clean and protect your deck, watch this video from The Home Depot.
Inspecting and Making Repairs
To make sure your desk is supportive and safe, it's important to inspect your deck and fix any problems you find. Thanks to this handy guide from The Family Handyman on how to fix the seven most common deck problems, repairing your deck has never been easier.
Stain and Seal
Although pressure-treated lumber resists insects and decay, it's still vulnerable to moisture and the sun's rays. To preserve your deck without changing its color, this guide from This Old House shows you how to use a clear wood preservative that contains a UV protector. Additionally, if you want to add color, it is better to use an exterior stain first. For instructions on how to stain your deck, read this how-to article from HGTV.
Tip: Prevent your deck's screws and bolts from rust and corrosion by spraying WD-40® Multi-Use Product on them.
Next Article>>
FEATURED PRODUCTS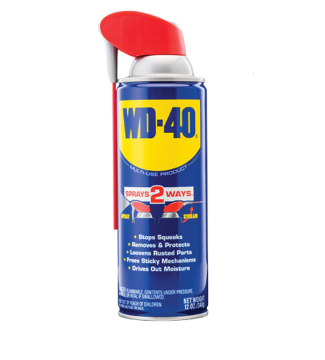 WD-40® Smart Straw®
WD-40 Multi-Use Product protects metal from rust and corrosion, penetrates stuck parts, displaces moisture and lubricates almost anything.