With the winter soon fading to spring, it's the perfect time to focus on updating and improving the inside of your home. Check out the three simple and inexpensive enhancements below that will boost the value of your home below.
Updating Light Fixtures
Light in a room is one of the most important yet understated elements of a room's design. Light fixtures can set the mood of any room. If the fixture gives off too much light, the effect will be harsh and uncomfortable; however, if the fixture doesn't light the room enough, it can make a room dreary and depressing. Changing light fixtures can be one of the most inexpensive and effectives ways to enhance a room's color, and it's important to consider the type of light your room needs. Check out this article from Better Homes and Gardens to see what type of interior lighting is best for each room in your home. Not sure how to properly replace the light fixture? Check out these step-by-step instructions from The Family Handyman.
Adding Color to Walls
Interior painting is one of the most popular home improvement projects. Adding color to your walls, according to The Home Depot, can dramatically change the look and feel of your home. However, choosing the right color for a room can be overwhelming so it's important to scan through your favorite home or redecorating magazines to find examples of color schemes that appeal to you. For step-by-step instructions on how to paint the inside of your home, check out this helpful article from This Old House.
Adding Crown Molding
When freshening up your home for spring, remember that crown molding can enhance the look of most any room. From making small rooms feel larger to using it just as a decorative trim, crown molding is an easy way to boost your home's value without diminishing that of your wallet. Before you purchase the materials and start installing, be sure to check out Lowe's crown molding buying guide to see what material and style is best for the room. The type of material you will use while installing crown molding depends on the height of your ceilings and the type room you're planning on trimming. Thanks to DIY Network's step-by-step instructions on how to install crown molding, adding visual interest and value to your home is easier than ever.
Tip: Coat WD-40® Multi-Use Product on doorknobs prior to painting to keep paint from sticking.
Next Article>>
FEATURED PRODUCTS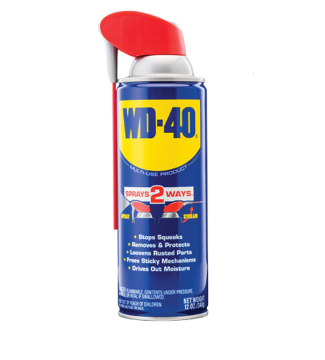 WD-40® Smart Straw®
WD-40 Multi-Use Product protects metal from rust and corrosion, penetrates stuck parts, displaces moisture and lubricates almost anything.