Prepare Your Garden for Spring
<< Back
Late winter is the perfect time to prepare your garden for a blooming spring. Planning your work ahead and staying organized can be an easy way to make sure all your gardening goals are met, which is a fruitful exercise for producing the colorful results you're seeking. Start with this gardening checklist to do before spring arrives:
Repair and prepare:
Bob Vila suggests checking the garden for winter damage and shaking off any remaining winter snow without walking on muddy areas to avoid compacting the soil.
Prune:
If you have trees, now is the time to trim them to ensure they grow to their maximum potential during the spring. Using sharp gardening tools, prune all dead or diseased branches and those that have grown the least consistent with the branches' general direction.
Designate planting areas:
Assess the area of your garden and designate planting areas based on what you're interested in planting as well as preexisting flora. Real Simple recommends designating four-by-four feet plots of land for vegetables, which can be in the earth or raised in a garden bed, planter box, or equivalent.
Maintenance:
Cleaning the garden and getting rid of any dead plants or structures that don't belong there anymore will help your plants and flowers grow to their full potential. If you have any climbing vine plants, remember to leave their relevant materials intact or repair/replace as needed.
Consider fences:
Fences help young trees and vegetable plants grow strong. Depending on the fauna of the area of your residence, it can also prevent rabbits, raccoons, and other critters from eating your veggies.
Acquire basic gardening tools:
While you can get away with less, having at least one of the following essential gardening tools will greatly assist in providing good maintenance throughout growth season: spade, garden fork, trowel, hoe, soaking hose, and a basket or planter bucket for transferring soil. You can buy them new in a store or look in thrift shops and yard sales if you're looking for a bargain.
Tip: Use WD-40 Specialist® Cleaner & Degreaser to clean materials and tools locked away for winter storage before setting them into action. Quality care & maintenance is not an act, it's a habit.
Next Article>>
FEATURED PRODUCTS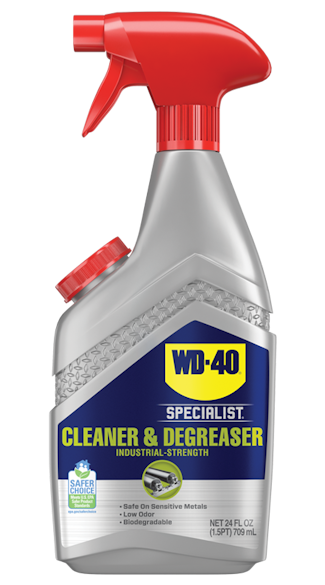 WD-40 Specialist® Cleaner and Degreaser
WD-40 Specialist® Cleaner & Degreaser is a water-based, non-flammable, non-aerosol cleaner & degreaser with a unique bio-solvent formula engineered to be powerful yet safe for sensitive surfaces.