Having a place to call home means more now than ever, and WD-40® Brand is thrilled to once again partner with Habitat for Humanity on its important mission to create a world in which everyone has a decent, safe and affordable place to call home. Check out the details below and buy a can to lend a hand to a worthy cause.
What's Happening: For every 12 oz. can of WD-40® Smart Straw® sold at participating Lowe's Home Improvement stores, WD-40 Brand will donate up to $50,000 to Habitat for Humanity International. While not everyone can roll up their sleeves to build or improve homes, everyone can make a difference through purchasing a can.
When: From now through April 30, 2021,
Why it Matters: At WD-40 Company, we value making things better than they are today, and this effort is just one example. In addition, our friends at Habitat for Humanity International tell us the need for affordable housing has never been greater. Together, we can help communities become stronger and more resilient – who wouldn't want to support that?
This effort marks the second year in which we've partnered with Habitat for Humanity, which is a leading global nonprofit organization working in local communities across all 50 states in the U.S. and in more than 70 countries. Help us give back by grabbing a can during your next Lowe's run.
Next Article>>
FEATURED PRODUCTS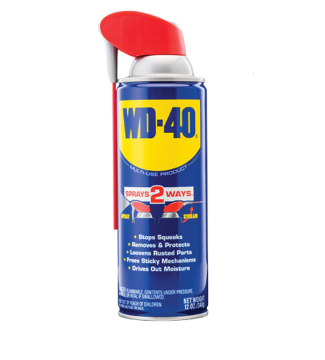 WD-40® Smart Straw®
WD-40 Multi-Use Product protects metal from rust and corrosion, penetrates stuck parts, displaces moisture and lubricates almost anything.