What's scarier than running out of Halloween candy as a horde of neighborhood kids come to terrorize the front door? Losing to your six-year-old child in a pumpkin carve-off. If you want to keep your pride glowing a healthy orange, it's time to step up your pumpkin carving game.
Secret Weapon
The sneaky trick often left unshared between experienced pumpkin carvers is the use of…power tools. That ribbed plastic knife with the dull blade? Amateur hour. We're talking rotary tools, cordless drills, jigsaws and more to crack the code for this year's best pumpkin art pieces. TheFamilyHandyman offers advice on what to use from the basics to embellishments, and don't forget to browse on Etsy for some incredible designs and stencils to set yourself up for success.
I Have the Power
Sometimes external power can be overkill – don't be afraid to use a bit of your own elbow grease. Keyhole saws, thin chisels, and even a little sanding can really round out your assortment of options for crafting a top-notch pumpkin piece. Prep your pumpkin the same way you would treat a woodworking project – plan it out, grab the appropriate tools, and take your time to create a finished masterwork.
Out of the Box
While a classic but immaculately carved jack-o-lantern can be truly impressive, another way to win the day with your pumpkin expression is to change the paradigm and think outside of the box. You can grab your set of drill bits and pattern out the night sky, or go for that strangely shaped gourd rather than the perfect pumpkin. Add paint instead of cuts, or carve a relief instead of cutting fully though the sidewalls. Themed pumpkins from Star Wars, Ghostbusters, or Disney films can be really engaging and eye catching…there's no limit to the possibilities. Here's a list of ideas to get started and be sure to go for something that brings out a bit of excitement or passion from you and/or your family.
Pro-Tip: After you're done carving, spray your pumpkin with a light coating of WD-40® Multi-Use Product. Not only does it grant extra shine, but the coating will help the pumpkin last a bit longer and delay the onset of decay. Be sure not to spray near a lit candle and wipe away any excess liquid with a cloth or rag.
Next Article>>
FEATURED PRODUCTS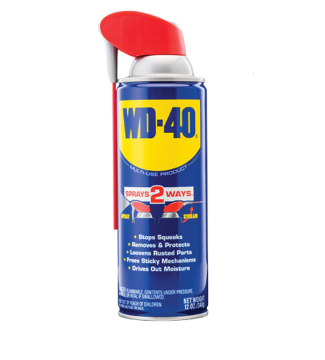 WD-40® Smart Straw®
WD-40 Multi-Use Product protects metal from rust and corrosion, penetrates stuck parts, displaces moisture and lubricates almost anything.