How to use WD-40 Specialist Degreaser and Cleaner EZ-Pods
<< Back
Do you have a next-level degreasing job that regular cleaners can't fix? WD-40 Specialist® Degreaser and Cleaner EZ-Pods is the newest product to join our problem-solving lineup. These concentrated degreaser pods were designed to tackle the toughest caked-on grease and dirt — with the simplest process possible. EZ-Pods are easy to store, odor-free and make quick work of your biggest messes. Here's how to put our industrial-strength cleaner pods to best use:
Degreaser pods for tough jobs
Life is messy. So is work. EZ-Pods are an all-in-one solution for your grungiest spaces, including:
Factories
Food-processing facilities
Job and construction sites
Auto and

bike

shops
Garages
Industrial, commercial, and residential kitchens
Machine and tool sheds
Hobby rooms
Non-abrasive EZ-Pods don't corrode or leave a residue. These degreaser pods are safe to use on:
Concrete
Steel
Stainless steel
Plastics
Rubber
Neoprene
Carbon Fiber
Copper
Aluminum
Chrome
Painted surfaces
EZ-Pods are made to dissolve in water to degrease and clean surfaces. They are not a replacement for other types of household cleaning pods. Do not use EZ-Pods in:
Washers and dryers
Dishwashers
Coffee machines
Why choose these cleaner and degreaser pods?
EZ-Pods pack a powerful cleaning punch without the drawbacks of other industrial-strength cleaners.
First of all, the pouch design is convenient to store: No spills, no heavy tubs or buckets to carry. You can keep a package of EZ-Pods in your toolbox, shop cart, and/or truck storage box for easy access.
Second, EZ-Pods can be used for all your hardest cleaning jobs. You don't need to buy separate degreasers for each task. Our degreaser pods flex from the kitchen to the jobsite to the garage. Customize the strength you need to the job at hand by adding an extra pod to the solution.
Finally, EZ-Pods are safe to use. They are VOC-compliant in all states, fume-free and don't need a CA-Prop 65 warning. Even better: the packaging is recyclable!
1. Tear off the package top.
2. Grasp the green line on the inside top of the package and pull apart to reveal the green seal tab.
3. Grab the green seal tab and pull in the opposite direction to open the package.
4. Fill a clean container with water. Our cleaner pods can be used with most delivery systems, including spray bottles, mop buckets, power washers, and more
5. Drop in one to two EZ-Pods for every 32 ounces (1 quart) of water. Everyday jobs only need one degreasing pod. Serious messes? Try two.
6. Let the pouches dissolve. It should take a couple minutes or less.
7. Shake or stir.
8. Apply the EZ-Pods solution.
9. For tough jobs, let it soak in.
10. Rinse or wipe clean to remove grime.
11. Enjoy the shine.
12. Reseal the package. Store in a cool, dry place to prolong the cleaner pods' power. Recycle the packaging when you're done.
Pro Tip: EZ-Pods will work in any temperature of water but dissolve best when it's warm. 90 percent of professionals said they preferred WD-40 Specialist Degreaser and Cleaner EZ-Pods to their current degreaser. Put our degreaser pods to the test: Try a side-by-side comparison during your next grime-busting session.
Next Article>>
FEATURED PRODUCTS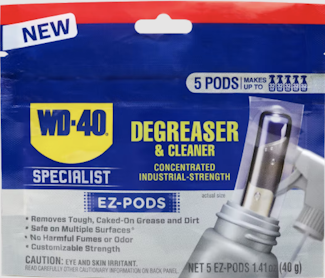 WD-40 SPECIALIST® DEGREASER AND CLEANER EZ-PODS
Use Degreaser & Cleaner EZ-Pods to remove stubborn build-up in industrial, commercial, and residential kitchens. Safe to use on stovetops, microwaves, backsplashes and more to get rid of tough grease and grime.