How to Install Crown Molding Yourself
<< Back
Tip: Use WD-40 Specialist® Dry Lube to lubricate and protect saw blades used when cutting the crown molding to size.
Crown molding can enhance any room in your home, from making small rooms feel larger to adding a decorative trim or repairing a trouble spot. It's an easy and inexpensive way to boost your home's curb appeal and not too tough a task for a little weekend Do-It-Yourself projecting.
Types of Crown Molding
The type of material you will use while installing crown molding depends on the height of your ceilings and the type of room you are planning on trimming. Check out Lowe's crown molding buying guide to see what material and style is best for the room. The three most common crown molding materials for DIY crown molding projects are:
Wood- Wood is the most popular material for crown molding and comes in a variety of profiles. It's lightweight, flexible and DIY-friendly. However, it's important to keep in mind that it is often sensitive to shifts in temperature and humidity. Check out some wood moldings we found from The Home Depot here

.

Polyurethane- Polyurethane is one of the most recommended types of material for crown molding. Unlike wood, polyurethane is not susceptible to changes in temperature or humidity, which makes it a more durable choice for homes that may have significant climate variations. Click here

to see some great polyurethane crown moldings that The Home Depot offers.

Medium-density fiberboard (MDF)- Medium-density fiberboard (MDF) contains sawdust fibers and resin and is excellent as a painted trim, but can also come in a wood finish. It's less expensive than traditional wood crown molding and is not as sensitive to cracking like wood. See some of the MDF crown moldings The Home Depot has here

.
Once you choose what material you want, you must determine how much crown molding to purchase. To figure this out, This Old House recommends rounding the length of each wall to the nearest foot and then adding them together.
Installation
Before installing the crown molding, it's important to make sure you have the right tools. Click here to view DIY Network's list of materials and tools. Thanks to DIY Network's step-by-step instructions on how to install crown molding, adding visual interest and value to your home is easier than ever.
Next Article>>
FEATURED PRODUCTS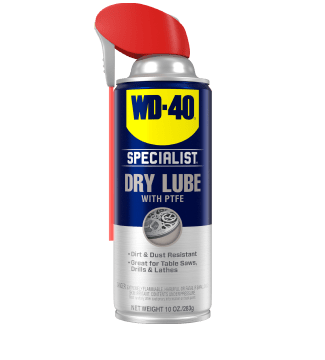 WD-40 Specialist® Dry Lube
A dry lubricant that keeps your equipment running smoothly with long-lasting corrosion protection that does not attract dirt, dust, or oil.