How to Get Your Bike Ready for Summer
<< Back
As the sunny days stretch longer towards the official beginning of summer, the time has come to break out your bike. Before any bike riding season, make sure your bike is prepped and ready for you to ride. Below are some tips to ensure your two-wheeled adventure-buddy is ready to rock.
1. Bring Your Bike to a Shine
Cleaning your bike is an easy but important step in the bike maintenance process. Get the dust off from storage and give the frame a shine with WD-40 Specialist® Bike Cleaner, a biodegradable foaming wash safe for use on all parts and surfaces of your bike. While you're washing, be on the look out for any loose or broken components or other parts that may need special attention. If you want some pro cleaning tips, check out this guide from Cycling Weekly on how to get it done the right way in under seven minutes.
2. Check Brakes and Tire Pressure
Brakes are key when you want to slow your roll. Many bikes have brake pads, which can require adjusting and are simple to replace when worn down. Your pads might also be out of alignment – an easy way to identify this problem is to lift the wheels off the ground and spin the tires. If there's drag and the wheel slows to a halt, the alignment might be off. This Popular Mechanics guide discusses how to adjust the pads and check the wear.
While you're working on your wheels, check the tire pressure to ensure you're at an adequate level of inflation. Bikes that have sat in storage for winter will likely need attention, but it's a good habit to make sure you're pumped up before every ride. Tires with proper pressure offer safer, smoother rides, and aid in avoiding flat tires. Find an air pressure gauge (and a tire pump, if you don't have one) at REI or your local bike shop and follow these step-by-step instructions from e-How for more information.
3. Lube Up, Roll Out
After washing your bike (and degreasing your chain, if needed), checking brakes & tires, and performing any additional fixes required, the last step before you launch off on a ride is to lube your chain. Not only does adequate lubrication help with shifting gears and propelling you forward without noisy gear grinding, it also extends the life of your chain and reduces slippage and accidents. The riding environment can determine what kind of lube is best for your chain, but it's hard to go wrong with WD-40 Specialist Bike Chain Lube. As a superior performing all-conditions lubricant it aids in protecting bicycle chains in dry, wet, or varying conditions and adds corrosion-inhibitors for optimal chain protection.
Tip: Use WD-40® Multi-Use Product to loosen stuck or rusted fasteners on your bike frame and spray a protective coating on your handlebars to stay on top of problems before they start.
Next Article>>
FEATURED PRODUCTS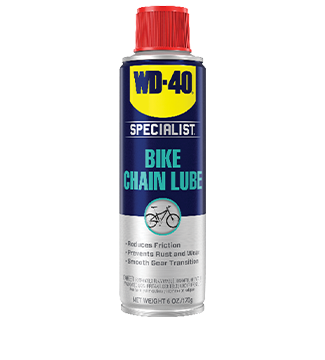 WD-40 Specialist® Bike Chain Lube
WD-40 Specialist® Bike Chain Lube is an all-conditions lubricant that protects bicycle chains in dry, wet, or varying conditions. The fast and easy-to-use aerosol spray helps prevent squeaks and extends the life of the chain. Its special formula does not contain wax, which leaves a sticky residue that can build up inside chain links and the drivetrain. Contains corrosion-inhibitors for optimal chain protection.