Hardy Plants with a Splash of Color
<< Back
Give the outside of your home some color and life in the colder months with some winter-friendly plants and flowers! Before you head to your local nursery or garden center, however, it's important to note what types of flowers will most likely thrive where you live. To help, the United States Department of Agriculture (USDA) created a Plant Hardiness Zone Map.
Here are three of our favorite hardy, cold-weather plants that can survive in multiple zones throughout the nation:
Camellia
Recommended by Popular Mechanics, the camellia's colors range from light pink to bright red. It's the ideal cool-season flower and is great for an accent plant to brighten a shady spot or add bursts of color to your landscape. The flower grows until the middle of spring, but during the initial growing season, it's advised to water camellias weekly and keep them out of direct sunlight. The camellia is best grown in zone seven to nine (Florida, the west coast, southwest, southeast and certain parts of the east coast). Check out the Lowe's plant guide for more information on the planting and care of a camellia.
Ornamental Kale
With giant frilly leaves in deep red, lavender, rose, white and yellow, ornamental kale – known as one of the most versatile plants – is becoming increasingly popular in gardens during the colder months. They're tough enough to survive the season's swings of weather and, in milder climates where temperatures do not drop below freezing, ornamental kale will maintain their lush and lively appearance through the winter and into spring.
While ornamental kales are relatively carefree plants, it is important to water them thoroughly when you first plant them. For more information and tips on how to care for ornamental kale, check out The Home Depot's plant guide.
Holly
Holly makes a great addition to your home as the winter festive season approaches. With dark and glossy green leaves, its bright red fist-like clusters of berries add attractive foliage to your landscape. With more than 400 varieties to choose from, ranging from small bushes to huge trees up to 80 feet, holly can be used in containers, beds and borders or used as a way to line the gate of your home for extra privacy. Holly is best grown in zones three through ten (from the zone map above). For more information on holly, check out Better Home & Gardens' plant directory.
Tip: Use WD-40® Multi-Use Product to keep wooden handles on garden tools from splintering and to coat shovels for easier digging.
FEATURED PRODUCTS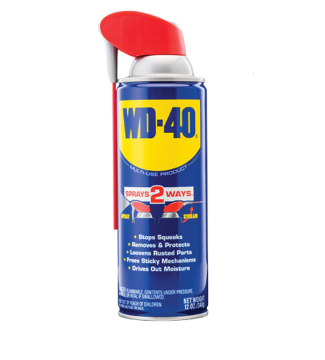 WD-40® Smart Straw®
WD-40 Multi-Use Product protects metal from rust and corrosion, penetrates stuck parts, displaces moisture and lubricates almost anything.