Four DIY Wreath Ideas Revealed
<< Back
Send a warm welcome to the autumn and winter seasons (and your guests!) by creating wreaths using autumn's colorful foliage and other natural adornments. Follow along with these four DIY wreath ideas below or get some inspiration and go your own way.
Leaves and Pinecones Wreath
Want a wreath that'll last from Halloween through the winter holidays? Use leaves and pinecones to make a wreath like this one on Better Homes & Gardens. Wire dried artichokes, lotus pods and pinecones to the bottom of a grapevine wreath and tuck leaves between the wreath's twigs. Adding paint using autumnal colors can help give the wreath a lasting edge against the season to continue its use into the New Year.
Acorn Wreath
This natural acorn wreath from Better Homes & Gardens makes a great statement piece for your front door or interior. Start by hot-gluing acorns to a grapevine wreath (available at Michaels). The article recommends hot-gluing the caps on first and to plan on gluing around 100 acorns to get the full look. To finish it off, you can add a burlap bow on the top or sprinkle metallic gold glitter over the acorns.
Cornhusk Wreath
A cornhusk wreath is perfect for capturing the essence of the harvest season to carry further into the holidays. All you'll need is a green foam wreath (available at Dollar Tree), a hot glue gun, and an 18-ounce package of cornhusks, which you can pick up at your local grocery store. Before starting the project, be sure to soak the husks in water until they are pliable, and then tear them into 1- to 2-inch-wide strips. Starting from the outer edge of wreath foam, hot glue rows of strips with a hot glue gun. Overlap each row and continue to glue with the hot glue gun. For the last row, hot glue strips to the back of the wreath and bend to cover the inside edge. Need to see the finished project before you begin? Check out the tutorial from Design Improvised.
Cornucopia Wreath
Create a colorful home feature with this cornucopia wreath as seen on Etsy. Using wire and hot glue, attach miniature pumpkins, squash and gourds to a foam wreath. For more autumn color, add leaves to the wreath – either fresh or store-bought.
Tip: Have a WD-40® Smart Straw® can handy to free up any unwanted tree sap from metal pieces.
Next Article>>
FEATURED PRODUCTS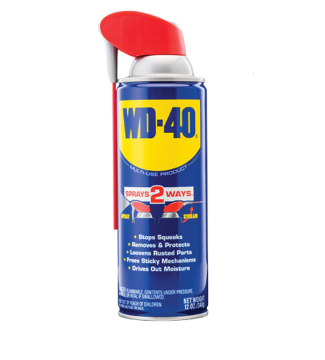 WD-40® Smart Straw®
WD-40 Multi-Use Product protects metal from rust and corrosion, penetrates stuck parts, displaces moisture and lubricates almost anything.