Create Your Own Backyard Sanctuary
<< Back
Finding serenity in the comfort of your own home carries a timeless quality of importance, but some circumstances can bring the "maybe one day" designs in your mind up to the top of the priority list. If you find yourself wanting to enjoy the surroundings of your living space on beautiful fall day, why not transform your backyard into a secluded sanctuary? To many, this idea sounds appealing but unrealistic. Read on and learn a few starting points from which you can build your own backyard sanctuary.
Don't Be Afraid to Go Big
Large trees and quick-growing shrubs can make an immediate impact on the look of your backyard. Columnar evergreens provide a simple fix along property lines, and flora of a medium height can cover or accentuate enclosure fencing. Hydrangeas, for example, grow quickly and will add color to the mix. You'd be surprised how much difference a bit of well-chosen greenery can make. Check out Better Homes and Gardens' tips for selecting trees for your yard.
Use a Good Mix of Colors
Choosing variety of leaf and flower colors will enhance the ambiance of your backyard and bring vibrancy to the experience of you and your guests. Color is not limited to plants alone -- you can play with lighting, planter combinations, and DIY or purchased creations from places like Etsy.com that provide contrast to the surrounding area. Don't be afraid to think outside the box, but go for balance rather than shock & awe.
Play with Structures
While dense evergreens are particularly good at blocking unwanted sounds, a gazebo can add privacy from neighbors and enable you to enjoy the outdoors – even during stormy weather. Pergolas provide both shade and style, and fire and barbeque pits bring a social element to enliven afternoons and evenings. For catching sunshine and relaxation, consider a hammock on a stand or hung from posts or trees. Choose one or two that fits your size and preferences. Need some inspiration? Houzz.com has some great ideas.
Just Add Water
Another way to help mask the sounds of the surrounding city is with a trickling stream or babbling brook. If you have an outdoor electrical plug nearby you can achieve running water with a simple pump, basin, and returning hose. Incorporate the landscape of your yard if possible, or add wood or stone features to tie into the natural environment. Tip: dig in the stones a bit to bring an appearance of belonging. Want the Feng Shui feel without all the aquatic work? A rock garden may help bring the zen to your backyard musings.
Tip: A Spray from WD-40® Big Blast® can quickly coat your shovel with WD-40® Multi-Use Product and help keep clay and dirt from sticking to it during your backyard excavations.
Next Article>>
FEATURED PRODUCTS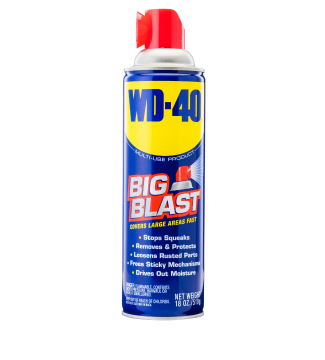 WD-40® Big Blast®
WD-40 Multi-Use Product protects metal from rust and corrosion, penetrates stuck parts, displaces moisture and lubricates almost anything. WD-40 Big Blast features a wide-area spray nozzle.