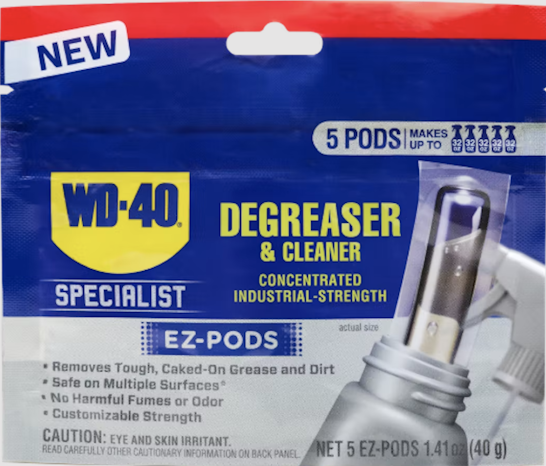 WD-40 SPECIALIST® DEGREASER AND CLEANER EZ-PODS
Whether in the factory, food processing facility, jobsite or auto shop, WD-40 Specialist® Degreaser & Cleaner EZ-Pods let you customize your degreasing power for almost any challenge.
Perfect for greasy wheels, gears, floors, and surfaces, including concrete and stainless steel. 
Use Degreaser & Cleaner EZ-Pods to remove stubborn build-up in industrial, commercial, and residential kitchens. Safe to use on stovetops, microwaves, backsplashes and more to get rid of tough grease and grime.   
Portable and easy to store, EZ-Pods are great for toolboxes, carts, and other small storage areas.
Use in spray bottles, buckets, and power washers.
EZ-Pods work in any temperature water but dissolve best in warm water.