SAN DIEGO – Sept. 26, 2016– WD-40 Company has partnered with SEMA Cares to build a custom 1967 Chevrolet Camaro to celebrate both the 50th anniversary of the SEMA Show as well as the 50th anniversary of the Camaro.
The WD-40®/SEMA Cares 50th Anniversary Camaro will make its debut at the 2016 SEMA Show in Las Vegas the first week of November before it gets auctioned off in 2017. The vehicle will be featured as the official 50th Anniversary Vehicle of the SEMA Show and will be the lead vehicle in the SEMA Cruise that concludes the show on Friday, Nov. 4, 2016.
Proceeds from the sale of the vehicle will go to Childhelp®, an organization that provides services to abused and neglected children, and the SEMA Memorial Scholarship Fund, which provides scholarships to students entering the automotive aftermarket.
The Camaro project was designed by noted car builder Neil Tjin and built in partnership with Tjin and instructors from Universal Technical Institute™. The engine, transmission, suspension, wheels and tires will be installed on PowerNation™ TV. The entire build will showcase how WD-40 Company products are used by automotive professionals in their restoration and customization projects.
In addition to WD-40® Multi-Use Product with its thousands of uses, the entire line of WD-40®Specialist® products will be used during the build. These include the WD-40® Specialist Rust Release Penetrant Spray, Water Resistant Silicone Lubricant, Protective White Lithium Grease, Long-Term Corrosion Inhibitor, Rust Remover Soak, Machine & Engine Degreaser, Dirt & Dust Resistant Dry Lube, Electrical Contact Cleaner, Industrial-Strength Degreaser and the newest addition to the lineup, Spray & Stay Gel Lubricant.
Build partners that have donated product for use on the Camaro include Eckler's, Budnik Wheels, Axalta, Eibach, Falken Tires, Baer Brake Systems, LR Auto Body and Optima Batteries.
"This Camaro project is very exciting for us because it not only celebrates two very important 50thanniversary milestones, but also allows WD-40 Company to continue to support the automotive industry, which is a cornerstone of our business," said Tim Lesmeister, vice president of marketing at WD-40 Company. "We are also proud to show off how our entire line of WD-40 Company products are used by hands-on mechanics, aftermarket professionals and auto enthusiasts everyday to get their job done right."
The vehicle will be featured in the WD-40 Company booth #62129 at the SEMA Show. For more information about the vehicle, visit wd40.com/SEMA after Oct. 6.
About WD-40 Company
WD-40 Company is a global marketing organization dedicated to creating positive lasting memories by developing and selling products that solve problems in workshops, factories and homes around the world. The Company markets its multi-purpose maintenance products and its homecare and cleaning products under the following well-known brands: WD-40®, 3-IN-ONE®, GT85®, X-14®, 2000 Flushes®, Carpet Fresh®, no vac®, Spot Shot®, 1001®, Lava® and Solvol®.
Headquartered in San Diego, WD-40 Company recorded net sales of $378 million in fiscal year 2015 and its products are currently available in more than 176 countries and territories worldwide. WD-40 Company is traded on the NASDAQ Global Select market under the ticker symbol "WDFC." For additional information about WD-40 Company please visit WD40Company.com.
###
Build Partners
WD-40 Company: WD-40 Company is a longtime supporter of SEMA Cares. The WD-40®/SEMA Cares 50th Anniversary Camaro was designed to celebrate both the 50th anniversary of the SEMA Show as well as the 50th anniversary of the Camaro. The entire build showcases how WD-40 brand products are used by automotive professionals in their restoration and customization projects.
The following products were featured in the build:
WD-40 EZ-REACH™: ITS PERMANENTLY-ATTACHED, 8-INCH FLEXIBLE STRAW ALLOWS USERS TO GET AROUND CORNERS AND CREVICES TO DELIVER THE SAME WD-40 MULTI-USE PRODUCT THAT AUTO PROS KNOW AND TRUST.
WD-40®

SPECIALIST®

SPRAY & STAY GEL LUBRICANT: THE NO-MESS, NO-DRIP LUBRICANT WAS USED ON EXPOSED PARTS UNDER THE VEHICLE THAT ARE MAGNETS FOR CORROSION.
WD-40®

SPECIALIST®

RUST RELEASE PENETRANT SPRAY: BECAUSE IT MOVES THROUGH RUST TWO TIMES FASTER THAN THE LEADING COMPETITOR, RUST RELEASE PENETRANT SPRAY GETS DEEP INTO THREADS, SEAMS AND CREVICES TO BREAK THE BONDS THAT HOLD STUCK PARTS TOGETHER.
WD-40®

SPECIALIST®

INDUSTRIAL-STRENGTH DEGREASER: THE POWERFUL, SOLVENT-BASED DEGREASER QUICKLY CLEANS ENGINES AND CAR PARTS TO MAKE THEM LOOK LIKE NEW.
Additional WD-40 brand products used include:
WD-40®

MULTI-USE PRODUCT
WD-40®

SPECIALIST®

MACHINE & ENGINE DEGREASER
WD-40®

SPECIALIST®

RUST REMOVER SOAK
WD-40®

SPECIALIST®

LONG-TERM CORROSION INHIBITOR
WD-40®

SPECIALIST®

DIRT & DUST RESISTANT DRY LUBE
WD-40®

SPECIALIST®

WATER-RESISTANT SILICONE LUBRICANT
WD-40®

SPECIALIST®

PROTECTIVE WHITE LITHIUM GREASE
WD-40®

SPECIALIST®

ELECTRICAL CONTACT CLEANER SPRAY
WD-40®

BIKE
SEMA Cares: The SEMA Cares Committee, established by the Board of Directors in 2007, aims to bring the voice and resources of the SEMA community together to make a positive difference in children's lives. Annually, the SEMA Cares Committee leads significant fundraising efforts including the SEMA Cares Pinewood Drag Races and participation in custom industry-build vehicles that are auctioned off. For more information about SEMA Cares, visit www.sema.org/council/SEMA-Cares.
Neil Tjin: Neil Tjin, one of the top up and coming designers within the automotive industry, has been involved in the sport compact market for more than a decade. Tjin has always been a strong passionate individual, especially when it comes to cars. He has always been one to think outside the box and to go against the grain. Over the years Tjin and his talented staff have been responsible for designing and building more than fifty high profile vehicles showcasing their creative talents on numerous Hondas, Acuras, Nissans, Infinitis, Scions, Volvos, Chevrolets and Pontiacs. In recent years Tjin has also teamed up with major OEM manufacturers such as Chevrolet, Pontiac, Scion and Honda North America.
Universal Technical Institute: Headquartered in Scottsdale, Arizona, Universal Technical Institute, Inc. (NYSE: UTI) is the leading provider of postsecondary education for students seeking careers as professional automotive, diesel, collision repair, motorcycle and marine technicians. With more than 200,000 graduates in its 51-year history, UTI offers undergraduate degree and diploma programs at 12 campus locations across the United States, as well as manufacturer-specific training programs at dedicated training centers. Through its campus-based school system, UTI provides specialized post-secondary education programs under the banner of several well-known brands, including Universal Technical Institute (UTI), Motorcycle Mechanics Institute and Marine Mechanics Institute (MMI) and NASCAR Technical Institute (NASCAR Tech). For more information, visit www.uti.edu. Like UTI on www.facebook.com/UTI or follow UTI on Twitter @UTITweet, @MMITweet and @NASCARTechUTI.
Eckler's: For over 50 years, the Eckler's Family of Automotive Parts Companies ("Eckler's") has been the automotive enthusiast's first choice for restoration parts and accessories for Chevrolet, Ford, Mercedes-Benz®, and Porsche®. Through its Websites, Call Center, and Catalogs, Eckler's offers the broadest selection of parts and accessories in the industry and is a trusted expert source for service and technical support.
Budnik Wheels: For over twenty-eight years, Budnik has been designing and manufacturing wheels and accessories with personality, dedication and style. We have not only set ourselves apart from the competition but have set the standard by which perfection is measured. We have invested heavily in forged tooling. The same structural benefits utilized by such critical applications as race engines and aerospace are now incorporated into every Budnik Wheel produced.
At Budnik Wheels you know you are dealing with a company that chooses to design its own product. No copies here. We design with attention to every detail and a true pride of workmanship and originality.
The Pivot design is a light weight wide spoke wheel, perfect for the Pro-Touring Street Machine car. This design was finished with a Titanium Ceramic Center and Brushed Rim Outer.
Axalta: Axalta is a leading global company focused solely on coatings and providing customers with innovative, colorful, beautiful and sustainable solutions. From light OEM vehicles, commercial vehicles and refinish applications to electric motors, buildings and pipelines, our coatings are designed to prevent corrosion, increase productivity and enable the materials we coat to last longer. For more information, visit axaltacoatingsystems.com.
Eibach: Eibach products are created to meet the extreme requirements of racing, from the 245-mph Mulsanne straight of Le Mans to the fender-to-fender combat of the Daytona Motor Speedway. The chassis of a production vehicle is designed to be built at a minimum cost, and suited for an "average driver". We enthusiasts, however, are anything but average. We know what we want from a vehicle. We want immediate response, reduced body roll, increased stability and enhanced cornering ability. And we want the look that comes with those characteristics-a lower, more muscular, more athletic stance. The special skills of Eibach engineers are in the tuning of the individual components (springs, dampers and stabilizers) to achieve the best possible harmony between the driver, the automobile and the road. As a driver you immediately feel more direct handling and greater predictability. Nose dive under braking is reduced, as well as excessive body roll in hard cornering. In any performance driving situation, tracking stability-and driver confidence-is greatly enhanced.
PRO-TOURING-SYSTEM | Performance Springs, Shocks and Stabilizer Bars
Are you ready to improve your classic muscle car's worn out factory suspension and transform it into performance machine for the modern world? Combine race-proven spring technology matched to perfectly tuned shocks and our high performance stabilizer (sway) bars and you have the Eibach PRO-TOURING-SYSTEM. Engineered using the same industry-leading technology found in NASCAR and Formula 1, the PRO-TOURING-SYSTEM delivers superior performance and modest lowering heights to improve handling response, while also maintaining Eibach's legendary ride comfort.
Falken Tires: The AZENIS RT615K is a championship-winning street tire for today's sports cars, performance compacts and sedans. With its world-spec construction and advanced compound for street and track use, the RT615K confidently maintains grip in both street and track conditions. Through its proprietary technology, the motorsports-inspired 8/32nd tread design and solid center rib provide significant traction and sustains strong grip in dry conditions. Available in 20 sizes from 14 to 18-inch, the RT615K is the track tire of choice with a UTQG rating of 200 A-A.
Falken Tires, the official tire of Major League Baseball, is a global, full-line tire manufacturer with a long history of delivering high quality, high value products for cars and trucks. Falken Tires, the company's North American arm, is headquartered in Rancho Cucamonga, California, and serves as the West Coast distribution center. The company currently manufactures and markets 14 car and light-truck tire models under seven lines in nine categories and 300 sizes. The company also makes and sells a full lineup of medium truck (OTR) tires for commercial use. Additional distribution locations can be found in Illinois, New Jersey, Texas and Florida. Founded in 1983, Falken Tires is a subsidiary of the 105-year old Sumitomo Rubber Industries in Japan. For more information, visit http://www.falkentire.com/, @FalkenTire on Twitter or our Facebook page at facebook.com/falkentire
Baer Brake Systems: Since 1994, Baer Inc. has engineered and manufactured the best-performing, most complete brake solutions available on the market. Baer products are designed using only the finest materials, processes and engineering available, and all products are backed by the industry's best sales and customer service support staff. From complete brake systems to direct rotor replacements and pads, Baer is committed to delivering the best performance, quality and service.
Front system: This system features the 6P 6-piston caliper mounted to a 14" 2 piece slot, drill, zinc plated rotor. Baer systems include stainless steel brake hoses as well as calipers that have D.O.T compliant dust and weather seals. Quality SFK or Timken bearings used, along with NAS high grade stainless hardware for our pre-assembled 2-piece rotor.
Rear System: This system features the 6P 6-piston caliper mounted to a 14" 2 piece slot, drill, zinc plated rotor. Baer systems include a unique billet backing plate that not only acts as a caliper mount, but also houses the bankisa (1-piece) park shoe. This is a more modern (better working) park brake assembly then the more commonly used drum in hat park brake systems. Systems feature stainless steel brake hoses as well as calipers that have D.O.T compliant dust and weather seals. NAS high grade stainless hardware is used our pre-assembled 2-piece rotor.
Optima Batteries: With a 40-year history of technological innovation and engineering, OPTIMA products offer unstoppable power for enthusiasts who require THE ULTIMATE POWER SOURCE™. OPTIMA high-performance automotive, marine and heavy-duty AGM batteries feature state-of-the-art SPIRALCELL TECHNOLOGY®. This patented design allows OPTIMA batteries to deliver superior performance in both starting and deep cycling applications. The OPTIMA product family also includes a line of Digital Chargers, with advanced multi-stage charging to charge and maintain a variety of vehicle batteries, maximizing battery life and performance.
About OPTIMA REDTOP Batteries: The REDTOP high-performance AGM battery is the ultimate starting battery and is designed to deliver a strong burst of ignition power for a reliable start-up every time. It has high-power delivery and extreme resistance to the most common causes of battery failure.
Contact:
Natalie Haack
Nuffer, Smith, Tucker
619/296-0605, ext. 230
nh@nstpr.com
Next Article>>
FEATURED PRODUCTS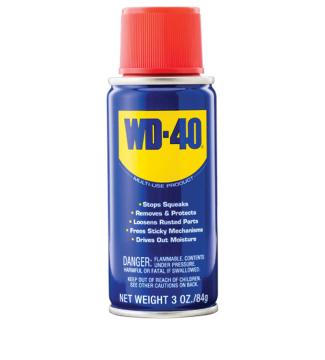 WD-40® Multi-Use Product
WD-40 Multi-Use Product protects metal from rust and corrosion, penetrates stuck parts, displaces moisture and lubricates almost anything. The WD-40 Multi-Use Product 3oz Handy Can is the perfect travel-sized problem solver.