Top Tips to Remove Snow & Ice
<< Back
It's that time of year when you need to be prepared to get around in less than favorable weather – and that includes getting out of your driveway in the morning. Staying mobile in winter can be quite a chore -- check out these tips to make sure you don't get left out in the cold when removing snow & ice this season.
Get the Right Tools
Snow removal 101: get the right shovel. According to This Old House, purchase a lightweight plastic or aluminum blade shovel that is coated with a nonstick finish to make loading and unloading snow a breeze. This Old House also wisely recommends avoiding a blade so big that you'll overload it, which can cause back strain. Get a blade with an S-shaped shaft and avoid using metal blades on softer materials, such as wooden decking. A pusher – a shovel with a C-shaped blade – is perfect for clearing lightweight, fluffy snow.
Start Shoveling Beforehand
So when should you start shoveling? Right before you need to leave for work in the morning? Not so! According to This Old House, you should shovel several times while snow is falling so it doesn't get a chance to bond to surfaces. Plus, it's easier to shovel 2 inches than 7 inches! When you shovel down to the pavement, the sunlight can warm it up and prevent ice from forming.
Lay the Groundwork
Should you use salt or sand? This Old House recommends rock salt to de-ice at temperatures above 12 degrees Fahrenheit, but it's tough on shrubs and grass, and can eat away at concrete. Magnesium chloride and calcium chloride are less harsh (though still not great for plants) and work at much lower temps than rock salt (from 20 to 25 degrees below zero Fahrenheit). Though sand is not a de-icer, you can use it to add traction to slippery surfaces and This Old House recommends using sandbox sand instead of mason's sand, which is too fine.
Big Jobs Call for a Snowblower
Got a large area to clear? Then a snowblower is the way to go. Be sure there is at least 1 ½ inches of snow on the ground. This Old House recommends spraying the exit chute with a silicone (like WD-40® Specialist® Water Resistant Silicone Lubricant) to keep snow from sticking. When you are finished clearing snow, let the snowblower run for a few minutes to dry out to prevent parts from being damaged by freezing.
Comment on the WD-40 Brand Facebook page with your snow removal tricks.
Tip: Use WD-40® Big Blast on your snow shovel to keep snow from sticking and protect it from rust due to the effects of salt.
Next Article>>
FEATURED PRODUCTS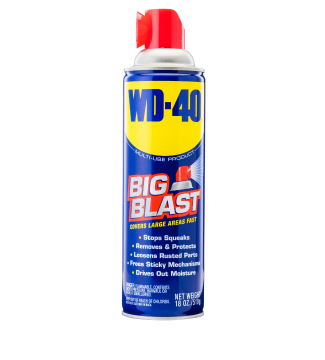 WD-40® Big Blast®
WD-40 Multi-Use Product protects metal from rust and corrosion, penetrates stuck parts, displaces moisture and lubricates almost anything. WD-40 Big Blast features a wide-area spray nozzle.