Pockets of Pros: @GirlieGarage
<< Back
Introducing the Pockets of Pros Series
Engineered to deliver the Original WD-40 Formula with pinpoint precision, the latest product launch from the WD-40 Brand is swiftly finding its way into the pockets of professional technicians, mechanics, craftsmen, and workers in many lines of industry. Immediately on release, the WD-40 Precision Pen found a warm welcome in the field of automotive maintenance. To better understand its applications, we turned to WD-40 Pro Partner Talena Handley of @GirlieGarage.
The @GirlieGarage platform has a unique mission: to make women feel safer and more confident on the road. Talena sets out to accomplish this mission by empowering women with knowledge through automotive education and consulting. She's also a mechanic herself, putting on coveralls and getting her hands dirty every day. Now, the Precision Pen helps her deliver solutions fast to where they are needed most.
The @GirlieGarage Story
Let's begin our journey by delving into the remarkable story of @GirlieGarage. Founder and CEO Talena Handley hails from San Diego, California – the same place where WD-40 Multi-Use Product was invented in 1953. Her grandfather used to restore Ford Model T's and introduced Talena to car maintenance at a young age.
Then one day, when her car was stolen and recovered for a second time, she'd had enough: "I didn't trust anyone to help me put it back together, so I put myself through automotive school." Talena pushed herself to take charge of her own automotive fate and graduated from the Honda PACT program (Professional Automotive Career Training). She later went back to school and earned a college degree in Business before starting her own venture, @GirlieGarage. All along the way, Talena leaned in hard to the technical aspects of vehicle maintenance & repair.
"Fourteen years wrenching," she says, rocking her custom @GirlieGarage coveralls. "My first job in the industry outside of school was with a race team in the Rolex series." Talena has worked for the Playboy Nissan 350z team in the GrandAm Rolex series, for the Ferrari F430 Challenge series, and for the North American Festival of Speed. Since starting her own automotive education and consulting business in 2020, she's been featured in the "SHE is SEMA" Spotlight and the "35 Under 35 Class of Next-Gen Talent" at the premier automotive trade show SEMA in Las Vegas. Talena and @GirlieGarage also won a San Diego Chamber of Commerce Small Business Award for significant contributions to the local community.
Enter: The WD-40 Precision Pen
The WD-40 Brand released the Precision Pen in the summer of 2023, but to ensure the new product was thoroughly tested and ready for launch the company called upon the power of the pros. Specialists, technicians, and workers in various industries were brought in to use the pen and offer their insights and feedback before sending the product to the shelf. After discovering @GirlieGarage at SEMA, Talena was selected and brought in to be part of the team. She's also now the first to be featured in the "Pockets of Pros" series for the WD-40 Blog showcasing how professionals are integrating the utility of the Precision Pen into their daily workflow.
In her mission to empower women with the know-how and confidence to deal with automotive maintenance and decisions independently, Talena feels well-suited to the task: "How can you give mechanical advice if you're not a mechanic?" she says. "The fact that I'm still in it every day does help a lot." In addition to the videos she creates on YouTube, Instagram, and TikTok Talena works with women one-on-one to provide consulting and hands-on repairs. She operates out of the back of her own car and can travel to assist local clients in person. Rather than a tool box or belt, she has a mechanic's backpack stacked with all the tools she needs for on-the-go repairs…now including the WD-40 Precision Pen.
"I don't keep anything in my pockets while working," she states (defying the title, "Pockets of Pros"). "I'm rolling around on the ground all the time, and don't want to smash anything into my hips." Talena's preferred purchase is the WD-40 Precision Pen 3-Pack from Amazon so she can keep one in the tool bag, one in the car, and one at home.
The Precision Pen works great for avoiding overspray when working on vehicles, but it also helps access tight spaces that are not easily accessible with aerosol cans. "There's a lot that goes on behind the dash and the pedals," she says. "If I'm under the dash and I have to spray something, it could go in my eyes. The pen can access tight spaces without the need to spray." Even with areas where overspray isn't as much of a factor, the ease and convenience of the Precision Pen often wins out. "I use it to make sure electrical contacts are clean and dry and making their best connection," says Talena, reaching across the engine with an outstretched pen in one hand.
Junkyard Wars
One surprising bit of assistance the Precision Pen brings to @GirlieGarage is with the race for junkyard parts. For those in the know, vehicles deposited at local junkyards can offer big savings to Talena when she's on the hunt for niche parts for a mechanical job. Notifications from a junkyard app send a ping when the right kind of vehicle makes a landing – and the race is on! Other interested parties also get word and it's first come, first serve under the hood.
When navigating the chaotic labyrinth of junkyard alleyways, Talena can't always haul heavier tools such as a breaker bar or metal cutting device to the site of the target vehicle. The WD-40 Precision Pen offers a compact, lightweight addition to her tool backpack that can aid in loosening bolts and freeing stuck parts as she works to get the components she needs. With its fine-tipped nozzle, the Precision Pen can precisely apply lubrication, contend with rusted parts, and even make quick, temporary fixes on components needing attention. It's like a magic wand in her hands, capable of turning rusty, seized-up bolts into cooperative allies.
Not only working for her clients, Talena's personal passion for cars also leads to these junkyard battles for parts. An older, curious-looking Jeep sits in her driveway awaiting repairs, and she's always on the lookout for fresh gear to upgrade her turn-of-the-century Honda Civic. 1999 and 2000 Civics are particularly sought after in junkyards, and being quick to the scene is critical for a good score. Talena admires how well the Precision Pen lubricates and protects the many metal-to-metal connections & components of her classic Jeep and takes care to practice what she preaches with solid vehicle maintenance.
More than Maintenance
The education provided by @GirlieGarage goes beyond just fixing cars. It enables women to make informed decisions about their vehicles, demystifying an area that has been traditionally seen as male territory. With knowledge comes confidence, and with confidence comes empowerment. @GirlieGarage aims to become a trusted resource for women seeking guidance on car maintenance and repair. More than that, it's a place where questions are welcomed, problems are addressed, and solutions are found. @GirlieGarage challenges the status quo, empowers women to be proactive when it comes to their vehicle's health, and even inspires women to pursue careers in automotive maintenance and repair. Beyond education and consultation, it's becoming a community.
Follow the journey as @GirlieGarage grows and evolves on any of the channels below:
Don't forget to order a pack of WD-40 Precision Pens – and let us know of your favorite uses in product reviews and comments on social media.
Next Article>>
FEATURED PRODUCTS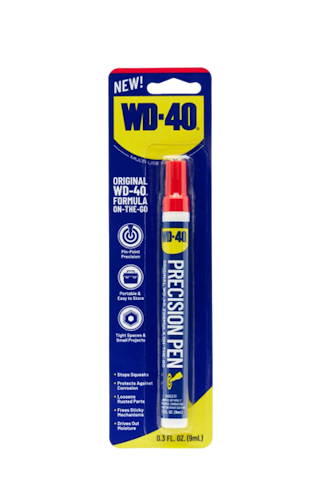 NEW WD-40® Precision Pen
The WD-40® Precision Pen is engineered to deliver the Original WD-40 Formula with pinpoint precision.