Even if you're the world's best driver, the open road is a dangerous place. There are some simple things you can do to help ensure the safety of you and your passengers, and that you're prepared for an emergency.
1. Hope for the Best, Prepare for the Worst
Even if you have roadside assistance included with your auto club membership or vehicle's warranty, accidents and breakdowns rarely happen when they're expected and don't always occur in warm, well-lit areas with tow trucks nearby. Therefore, you should make sure you have a flashlight, emergency warning triangle, blanket and first aid kit packed. In cold weather, make sure to pack extra warm clothing just in case. If you're going on a long trip, it's also a good idea to pack extra water and non-perishable food items.
2. Check Tread Wear on Your Tires
One easy way to know or check if your tires have enough tread on them is to insert a penny into the tire's tread groove with Lincoln's head upside down, facing you. If you can see all of Lincoln's head, your tread depth is less than 2/32 inch and it's likely time to replace your tires. Do this on several tread grooves across the tire to be sure.
You'll also want to make sure your tires are properly inflated. According to TireRack.com, if a vehicle's tires are underinflated by only 6 psi, it could lead to tire failure. Check your owner's manual to see what the proper inflation level should be, then head to the nearest gas station – most charge a dollar or less to use their air machine.
3. Get Some Rest
Get a good night's sleep before heading off on a long road trip. Remember to take breaks – at least every couple hours – to stretch your legs, get some fresh air and help avoid fatigue. Play upbeat music. If you're too tired to drive, stop at a rest stop and take a powernap. It might take a little longer to get to your destination, but it will be worth it to you and everyone else on the road.
4. Don't Use Your Cell Phone While Driving
If you get a phone call while you're driving, it's best to safely pull over before answering or returning the call. You should never text while driving. Before you hit the road, you should also make sure your emergency contact details can be accessed on your phone, even if it's locked. There are apps that can help you with this. For example, if you have an iPhone, CNET provides a step-by-step tutorial on how to use the Over app to put emergency contact information on your lock screen.
5. Make Sure All Passengers Wear Seat Belts
Worn properly, seat belts are your best protection against injury in a crash. You also need to make sure the kids in your car are secure. According to the National Safety Council, children should ride in the back seat of a vehicle until they are at least 13 years old.
Tip: Use WD-40® Multi-Use Product to lubricate air nozzle caps on car tires.


Next Article>>
FEATURED PRODUCTS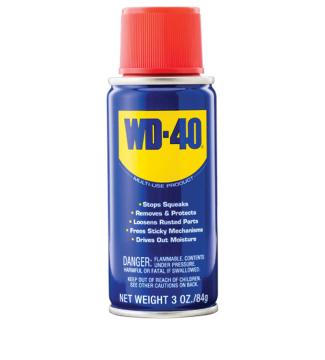 WD-40® Multi-Use Product
WD-40 Multi-Use Product protects metal from rust and corrosion, penetrates stuck parts, displaces moisture and lubricates almost anything. The WD-40 Multi-Use Product 3oz Handy Can is the perfect travel-sized problem solver.