4 Easy & Affordable DIY Holiday Decoration Ideas
<< Back
If you've been following the WD-40® Brand Blog lately, "Deck the Halls like a Pro" brought out some tips to add a special personal touch of festive cheer to your home this holiday season. The do-it-yourself decoration themes continues as we enter December to make sure you keep your spending under wraps and add value where it counts. From door to table décor, check out these four easy holiday decoration ideas to help you get into the yuletide spirit:
1. Invite Nature Indoors
Love natural elements? Head out to the yard, go to the park, or take a walk in the woods with the family and collect a bundle of pinecones. The possibilities are endless when you incorporate these beauties into your holiday home decorations. Check out a few ideas we found:
Pinecone table topper: Buy a garland of greenery to run down the length of your table and glue or place the pinecones on top of the garland for a rustic look. Check it out on Real Simple.
Pinecone chair backs: We love this idea from Better Homes and Gardens! Brush white paint on the tips of pinecones, glue the pinecone bottom to a velvet ribbon and secure one to the back of your dining room chairs.
Pinecone extravaganza: check out Pinterest's best pine cone ideas for the holidays!
2. Showcase Holiday Cards
It's that time of year where the holiday greeting cards start to fill your mailbox. Instead of just keeping them tucked away in a drawer or piling up on your counter, unveil them in an arrayed display to add familial sentiments to your holiday decorating. Midwest Living, Bob Vila and Better Homes and Gardens have great ideas on how to display your holiday cards.
3. For the Little Ones
In the midst of the holiday madness, it can be hard to involve little ones in the decorating process. We've found three perfect crafts that require little to no supervision and will help your home get into the holiday spirit while keeping the kiddos entertained!
Aluminum foil ring chains: To add some silver to your tree or stairwell rail, check out this Real Simple craft for kids. All you have to do is cut up a roll of aluminum foil (or buy a box of precut sheets) and have your kids roll and link the aluminum foil chains to each other.
Gingerbread houses: Using graham crackers, vanilla icing and whatever candy you have around the house, let your kids make their own gingerbread house winter wonderland. There are also premade houses, so the kids can just decorate with the candy and icing. If you're in the entertaining mood, check out this article from HGTV on how to host a kid-friendly gingerbread house decorating party.
No snow required snowman: Make a snowman with oranges or clementines! Stack the fruit and use toothpicks to hold the pieces together. Add cloves for the eyes and peppermint sticks for arms and a nose. For the hat, take a vanilla wafer and use the leftover frosting from the gingerbread house to layer peppermint candy on top of each other. See an example of the finished product here.
4. Give Guests a Jolly Welcome
Welcome guests to your home with a homemade wreath that reflects your holiday decorating personality. With just a few ornaments, fake fruit or snow and some ribbon, you can transform an ordinary wreath into a masterpiece. For some ideas on how to do this, check out these articles from HGTV, Lowe's, and Country Living.
Tip: Coat the stand for your trees with the WD-40® Big Blast® you use on your snow shovel to keep it from rusting.
Next Article>>
FEATURED PRODUCTS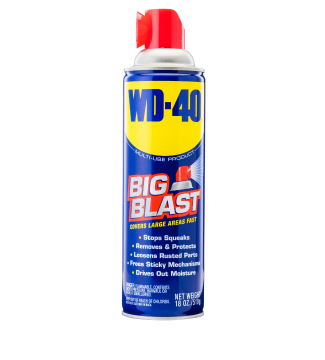 WD-40® Big Blast®
WD-40 Multi-Use Product protects metal from rust and corrosion, penetrates stuck parts, displaces moisture and lubricates almost anything. WD-40 Big Blast features a wide-area spray nozzle.